Mystic Half Marathon
is done...RACE DAY IN 1 WEEK!
Total distance for the week:
22.56 miles
Not much to say this week except HOLY CRAP IT'S ALMOST RACE DAY. Back in March when I started this training cycle, the race felt forever away. I mean, there was still snow on the ground! And this race wasn't until after Memorial Day. Such a long time, right? Eh, not really. The last 3 months have flown by, but I feel like I am in great shape and really hoping for a PR a week from now!
One thing I am super proud is that I completed ALL of my training runs. Every single one. I made a calendar like this for every month of the training, and man did it feel good to cross off each workout as it was completed: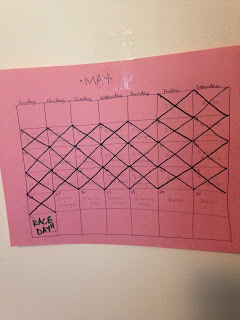 All my other Type A runners feel so warm and fuzzy looking that this pinnacle of organization, amiright?
When I trained for the Rochester half last September, I used a training program through my Nike+ app that, in hindsight, was too advanced for me. And instead of adjusting it, I just started skipping training runs willy-nilly (though never the long runs). This time around, I found a program that worked for me, but also wrote it down on my calendar in PENCIL so that I could easily adjust if needed. But you know what? I didn't need to. Barring anything that keeps me from my last 3 runs this week and/or the race (knock on wood), I will have done every single run on my schedule, despite sickness, exhaustion, and a whole host of other wrenches that were thrown into my days. I feel pretty darn good about that!
Here's what this week's workouts looked like:
Monday: Rest.
Tuesday: 5 miles, easy pace.
Another humid Tuesday morning! But it was a good run, 9:39 pace.

Wednesday: 10 x 400 intervals.
Here it was: the speed workout I have been most afraid of the entire training cycle. TEN intervals?? Three months ago, I never thought I could do it. And honestly, this morning I didn't think I could either when I realized that my husband's tablet was OUT OF BATTERY!!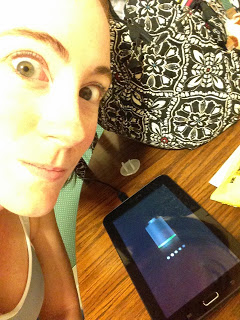 NOT PLEASED.
I plugged it in, but it was taking forever to even get enough charge to turn on. Was I really going to have to do this treadmill run with nothing to watch? That might be worse than actually doing the intervals...haha.
Thankfully, I got it up and running, and then it was interval time. Half mile warmup, then 10 intervals at 5K pace with jogging in between. I DID IT. No walking. I was totally beat at the end, but I really nailed this one. I am proud of my speedwork this training cycle, but wow am I excited for NO MORE INTERVALS for a while!! :)
Thursday: 3 miles easy pace.
Not much to report on this one. A chilly morning run at 9:40 pace.
Friday: Rest.
Saturday: 3 miles @ race pace.
I saved this run for the evening (unusual for me) because I spent the day at the Rochester Air Show with Small Fry!
We had an awesome time watching the Blue Angels and other performers, checking out all the cool planes on display, and eating junky fair food. However, by the end of it, we had been on our feet almost all day and I still had a run to do! Small Fry was so tired, he fell asleep on the 10 minute bus ride from the show back to our car:
By the time I got out there post-dinner, my legs were dead weight and my pace was all over the place. I had a really hard time finding my race pace stride, which is much different than the rest of the pace runs I've done lately. However, I threw in a few hills and just did my best. A bit too fast (9:34) but not bad.
Sunday: 7 mile long run.
This is the one modification that I made to the Hal Higdon training program I used. He does not work a taper run in the week before race day--his plan calls for 12 miles the week prior. However, I really felt like I needed a taper, so I decided to do a shorter run this week of 7 miles. I want to do whatever I can to keep my legs fresh for next week.
This run started out pretty rough. Three not-great things happened in the first half. 1) I started running and my music didn't play. What? I looked at my iPhone and saw Nike was tracking my mileage, but no music was coming out of the headphones. I finally had to stop and investigate--turns out one headphone (I only wear one at a time when road running) was not working. So I switched headphones and carried on. This is super annoying though, because my husband just bought these for me LAST WEEK! I have terrible luck with headphones.
Second problem: it was windy and I discovered that my new Under Armour shorts are not ideal for windy conditions. They have a high cut up each side that flaps quite wide in a strong breeze. Sorry, neighbors, for the show you got this morning (hey, at least I wore underwear). But there was nothing I could do about it once I was out; I wasn't going back to change. However, I quickly decided these will NOT be my race day shorts because they were so darn distracting for the entire run!
Third: I needed a bathroom break at 3.8 miles. Sigh. By the time I stopped for it, I realized I really needed an ego boost to make the second half of this run better. So, even though it was supposed to be a taper long run, I decided to push the last 3.2 miles below race pace. Really ramp it up and negative-split like whoa in order to build my confidence back up. And I did! My splits for this run were 10:16/10:10/10:15/10:01/9:27/9:03/9:07. BOOM. Owned. Confidence restored.
7 days to go!
I am linking up again with Tara's Weekend Update at
Running 'N Reading
(a fantastic blog for runners and readers alike!!). Check it out!
How was your running week, friends?

Anyone else have a race coming up next weekend??