Today is the start of Banned Book Week 2012! According to the American Library Association, this is what constitutes a challenged or banned book:
A challenge is an attempt to remove or restrict materials, based upon the objections of a person or group. A banning is the removal of those materials. Challenges do not simply involve a person expressing a point of view; rather, they are an attempt to remove material from the curriculum or library, thereby restricting the access of others. As such, they are a threat to freedom of speech and choice.
Sheila at Book Journey organized this Banned Book Week Celebration as a way to honor these banned and challenged books. If you go through the list of books that fall into these categories, I'm sure you'll be amazed to see so many classics (and some of your favorites!) mentioned.
As part of this week's celebrations, I chose to read a banned book that I've been meaning to get to for quite some time-- One Flew Over The Cuckoo's Nest, by Ken Kesey. This 1962 release has been banned and challenged many times over the years, most recently in 2000 in a California school district (
check out the full list/reasons here
). But please excuse me while I stick it to the man* and give you my full review here.
Summary from
Goodreads
:
An international bestseller and the basis for a hugely successful film, Ken Kesey's One Flew Over the Cuckoo's Nest was one of the defining works of the 1960s. A mordant, wickedly subversive parable set in a mental ward, the novel chronicles the head-on collision between its hell-raising, life-affirming hero Randle Patrick McMurphy and the totalitarian rule of Big Nurse. McMurphy swaggers into the mental ward like a blast of fresh air and turns the place upside down, starting a gambling operation, smuggling in wine and women, and egging on the other patients to join him in open rebellion. But McMurphy's revolution against Big Nurse and everything she stands for quickly turns from sport to a fierce power struggle with shattering results.
My Review:
I was immediately struck by how appropriate this choice was for Banned Book Week, because it deals strongly with themes of social norms, conformism, and government power. Throughout the book, McMurphy and his band of friends in the asylum become a force to be reckoned with by Nurse Ratched and the other members of the "Combine" (a term to describe the society at large forcing them to conform to "normal" ways of living). Some of their antics are downright hilarious. McMurphy is the most unlikely hero you could imagine for a novel. A big, violent, undereducated, profane criminal...and yet, you find yourself rooting for him all the way to the last page. I haven't seen the movie yet, but I'm dying to see how Jack Nicholson took to this role.
The novel is narrated by Chief Bromden, another patient on the ward with McMurphy. Bromden, assumed deaf and dumb by all the staff and patients for many years, is in fact quite coherent of all the goings-on around the hospital. He has his own history of fighting the power--his family's Indian tribe was "bought out" by the government some years ago, in order to move them and make room for new developers. However, it isn't until McMurphy arrives on the ward that Bromden (and many of the others) are able to find the strength to live as themselves, despite what society tells them is "normal".
Does this book deal with some uncomfortable subjects? Yes. Prostitution, sex, violence, drug use, and profanity abound. But they aren't thrown in willy-nilly--they all tie back to the central themes of the novel. At the last page, I felt blown away by how well Kesey got his message across--and that would not have been the case if those details were not included. But they are discussion tools, not ends in themselves.
I wouldn't say this one has a happy ending per se, but it does illustrate how fighting the establishment, while not easy, can lead to small, important victories over time. It's a great read, and I'm so glad I finally got around to it!
So,

GIVEAWAY TIME!

Fill out the Rafflecopter form below for a chance to win:
-Your own new paperback copy of One Flew Over The Cuckoo's Nest, plus
-a very cool bookmark that includes a quote from George Eliot (another banned book author).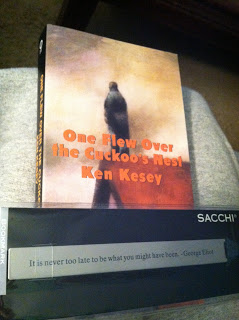 Giveaway closes at the end of Banned Book Week, so sign up now! US/Canada residents only.
a Rafflecopter giveaway
*A lot has already been said about banned books over the years, but I want to include my soapbox entry too. Do you dislike the content of a certain book? Do you think it's inappropriate for your children to read? Great. Then you can choose not to read it, and you can have discussions with your children about why they should wait to read it. (Even better--read it with them, and then discuss it together!!) But thinking you have the right to ban others from it as well? The very idea boggles my mind. The world is not full of fairy tales, and it's naive to expect the same from our books.