In between all the craziness going on around my house this month, I've actually still managed to READ! Here's the latest and greatest from 'round these parts lately:
Generation Chef by Karen Stabiner
Avery Books, 2016
copy provided by the publisher in exchange for an honest review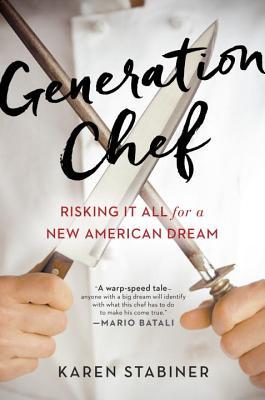 Hey, remember how I love foodie nonfiction? Yeah, you probably forgot, because it's been so long since I reviewed any! But when
Generation Chef
was offered up to me for review, I absolutely could not resist. Journalist Karen Stabiner shadowed up-and-coming New York City chef Jonah Miller as he embarked upon his life's dream: opening a restaurant of his own. As Miller opened the door to his restaurant (
Huertas
), Stabiner bore witness to everything: the bureaucratic frustrations of real estate, investors, and liquor licenses; the continual management of both kitchen and service employees; the painstaking balance between making a menu that's true to the chef, and one that gets people in the door. I was fully impressed by the depth of detail that she was able to include--this is one of those nonfiction books that almost reads like fiction, because so much emotion is embedded in the text.
The book stands out for another reason: Stabiner takes the story beyond Miller's journey with Huertas, and weaves in the journeys of other, more seasoned chefs, and how they did (or did not) find success. All of these side stories compliment the central narrative perfectly, without taking away from the flow of the book.
Generation Chef
will amaze you (with Miller's persistence and drive), amuse you (there's a fair amount of restaurant-style humor included), and make you incredibly hungry. Seriously, if I didn't live 7 hours from NYC, I'd be at Huertas right now ordering nonstop pintxos. Foodies and nonfiction fans alike will love this read!
Dear Mr. M by Herman Koch
Hogarth, 2016
copy provided by the publisher via NetGalley in exchange for an honest review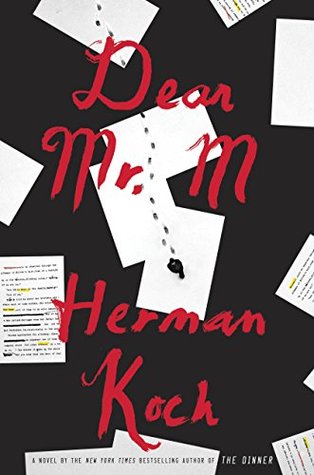 I am doing a bang-up terrible job of turning down ARCs lately, especially those from authors that I've enjoyed in the past. I know Herman Koch's
The Dinner
was not for everyone, but I was a huge fan, and
Summer House With Swimming Pool
worked equally well for me. I couldn't wait to see what Koch had in store with this latest release,
Dear Mr. M
, which deals with the disappearance of a high school teacher after he has an affair with one of his students.
Since this is a mini review, the short version is that I did not enjoy this one as much as Koch's other two novels. It started off in typical Koch fashion: narrator is a creepy, possibly psychotic?, stalker-type, and the constant flashbacks make the storyline continuously more mysterious. However, about halfway through the book, the narration switches to the girl who had the affair with her teacher, and Koch lost me. Her story was too drawn out and lacked the suspense of the earlier section. By the time we switched to other, more engaging narrators, it was hard for me to jump back on board and enjoy the (admittedly twisty) conclusion. This one definitely had a whiff of the Herman Koch I remember from his first two books, but didn't pack the same punch.
What are you reading this month?