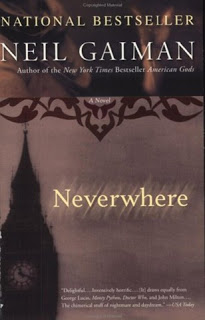 Title:
Neverwhere
Author:
Neil Gaiman
Publisher:
BBC Books
Release Date:
September 16, 1996
Source:
bought it for my Kindle via Amazon
Here's the plot summary from Goodreads:
"When Richard Mayhew stops one day to help a girl he finds bleeding on a London pavement, his life is forever altered, for he finds himself propelled into an alternative reality that exists in a subterranean labyrinth of sewer canals and abandoned subway stations. He has fallen through the cracks of reality and has landed somewhere different, somewhere that is Neverwhere."

My Review:
First of all, I have to say I was a bit intimidated to read this novel. The ladies from my online book club found out that I had never read any Neil Gaiman, and immediately took to arms with cries of, "GET THEE TO THE GAIMAN!" And so, after many months of agonizing over which to begin with, I picked up Neverwhere.
I was a tad skeptical at first. Fantasy novels are not one of my top genres, and generally only work well for me if the author does a downright AMAZING job of making the fantastical world "believeable", on some level. But guess what--Neil Gaiman does this in spades. Richard, the main character, falls from London Above (our real-world, Olympics-hosting London) to London Below, a seedy, horror-filled underworld-London where all the people and things that have "fallen through the cracks" over time end up. London Below is described in such a way that it is extremely detailed, but not at all overdone. I think this is partially because the concise and sometimes depressing descriptions of London Above mirror the way London Below was described...thus making it easy to mentally leap from one to the other. Anyway, I believed it. I fell into it right along with Richard and I didn't look back. Gaiman makes that transition so seamless, you don't have the time (or the desire) to question it.
The characters were also very well done; again, distinctive and quirky (and surprisingly human...even when they're not) without being over-the-top. I'd have to say my favorites were the baddest of the bad guys, Mr. Croup and Mr. Vandemar. Never before have I encountered villians that both gave me nightmares (true story), and at the same time hit me with hilarious one-liners throughout the entire book. But Richard is also a wonderful protagonist, mostly because he keeps such an "average-Joe-ness" about him even after his craziest of encounters with London Below.
I do find it funny that this book is actually the companion to what was originally a British TV mini-series, because as I was reading it, all I could think was, "Oh, I hope no one tries to make this into a movie. No one could do this justice on screen, BLASPHEMY!" Apparently, the BBC made Gaiman leave some things out of the TV series, hence the novel. But I'm afraid to watch the series because I already so enjoy the world of London Below as it exists, safely in my head.
Overall? Creepy, funny, and oddly believeable. Well played, Neil Gaiman. I'm late to the game, but you have a new fan. I'd recommend this to anyone who enjoys the fright and occasional fantasy bent of Stephen King, but is twisted enough to want a laugh at the same time. (I'm not afraid to put myself in that category.)