Hola, runners! I just realized that it's been a rather looooong time since I did any updating on my training for the upcoming Flower City Half Marathon. With only 24 days til the race (eeeek), I am at the height of my training right now. It's safe to say that this training cycle has been full of roller-coaster-esque ups and downs.
You may remember that,
back in Week 1 of training
, I decided to try to go sub-2 (under 2 hours) in this race. My PR is 2:05, though on a very flat course, whereas Flower City has a substantial hill section in the middle miles. So I immediately went into heavy training mode: lots of track intervals, lots of tempo runs, lots of hill repeats, lots of race pace training runs.
At first, I was excited for this plan. I'd never done dedicated hill training before, and it was fun to try. However, the novelty wore off quick. I started getting run down, feeling constantly tired, more sore than usual. I started
dreading
my runs.
Then, this week, I had a revelation.
IT'S TIME FOR ME TO CHANGE THE END GAME.
This revelation came in 2 parts. Part 1 happened on Tuesday morning, when my alarm went off at 5:15am for what was supposed to be a 9x400m speed workout. I DID NOT want to do it. I was THIS close to just rolling over and skipping the whole thing.
Then I thought to myself..."What if I just go out and run...for fun? No intervals. No speed work."
I jumped out of bed so fast, I almost sprained an ankle.
I went out and ran a totally carefree 3 miles. Didn't even wear my Garmin. Couldn't tell you what my pace was. (Okay, I could if I looked it up on Nike + (which I always have on during runs), but I didn't even look at my pace on it afterwards. So I really couldn't tell you.) It was an awesome run.
Part 2: Wednesday the alarm went off at 5:15am again. I had 9 x hill repeats on the schedule. Nope, didn't want to do that either. I went out and ran 4.5 miles for fun. (I have started to LOVE running in the early-morning dark. So quiet! So peaceful!) It was amazing.
It was during this second run that I had a serious mental talk with myself. Do I REALLY want to run Flower City sub-2? And if so, why? I've run 3 half marathons so far, and at all 3, I have felt HORRIBLE at the finish line. I'm not talking mentally (I've PR'd each time, which is a mental boost), but I mean physically--I felt like I wanted to puke. I don't enjoy any of my post-race time because I'm so busy trying to keep myself from vomiting that I just want to go home and lie in a dark room. After my last one (
Winter Warrior
), I finished the race at 6pm and ended up on my couch feeling like gastrointestinal death until 11:30pm. I remember standing in line for my medal and willing myself not to be sick on the person in front of me. Yes, I PR'd. Was it worth it? Is that what I want a race to feel like every time?
Some would say yes. I mean, look at Shalane Flanagan at the Olympic marathon trials last month. Girlfriend collapsed at the finish line. She left EVERYTHING out on the course. It was epic, phenomenal, inspirational. But you know what? That was for a spot in RIO. I am not going to Rio anytime soon. Like, not even on vacation.
This was an incredible finish to watch!! (Photo credit womensrunning.competitor.com)
I thought about the first "big" race I ever did. It was the Boilermaker 15K back in 2008. I had only started running in 2006, and had never done anything beyond a 5K up to that point. My husband and I trained using a beginner Hal Higdon program. It didn't call for any speed work--just putting in the weekly miles. We had no Garmin. We had no Nike +. We just did our miles and high-fived every time we completed a training run.
You know what? By my current standards, my Boilermaker time sucked. 1:44. Roughly 11:09/mile. But you know what else? I.DID.NOT.CARE.ONE.BIT. I ran 9.3 miles without stopping!! On an 85 degree day!! I got to enjoy free beer and cookies at the finish with my husband! It was a freaking awesome day.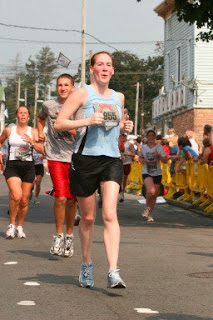 Went back in the archives for this one! Boilermaker 2008. It was SO hot. But I had SO much fun.
So I thought hard about my goals during this week's Wednesday morning run. In the age of social media, it is easy to lose sight of what you REALLY want. I follow a lot of running bloggers, and I love them--they are insanely inspirational, they give me new ideas for training, recovery, and racing all the time--they are
amazing
. However, 99% of them are following strictly laid-out training plans for races almost all the time. And it's easy, when you're reading their blogs and following their Instagrams and perusing their Tweets, to think that that's how running has to be all the time. Hit it hard, #tracktuesday like a boss, leave it all on the road, and keep chasing those PR goals.
But maybe...the PR isn't MY current, deep-down goal. I know, what a thought, right?
After thinking long and hard, here are my TRUE goals...the ones that I know would make me happiest on April 24th:
1. Finish with a smile on my face.
A smile that shows the fun I had on the course, and that shows how happy I was to run strong without making myself physically miserable. I mean really--I JUST RAN 13.1 MILES! That's something to really and truly smile about!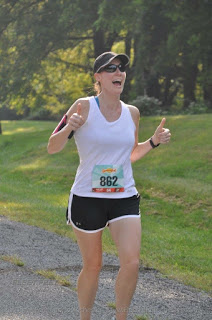 One of the only race photos that I have of me smiling...at a 5K, during which I did not check my pace once. I felt great...and I PR'd. Coincedence?
2. Run the whole race without stopping to walk.
I know this may not seem like a big deal, but in all 3 of my past half marathons, I overdid it so much in the early miles that I had to walk in the later ones...even though I've almost NEVER had to walk during a training run. Again, this is all because I push too hard during the race and burn out. I don't want to do that this time. I know I can run 13.1 miles without stopping--I KNOW it.
3. Run without my current pace showing on my Garmin.
I still want to wear it because it's fun to look at my race stats after the run is over, but I don't want to look at my pace during the entire race. I want to run a comfortably strong pace. If I feel like I'm overdoing it, I'll slow down. If I think I have some gas left, I'll speed up. End of story.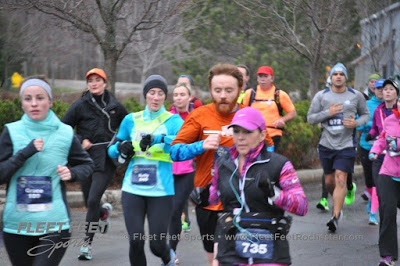 The only race pic of me at Winter Warrior...yup, checking my darn Garmin!!
4. Run the kids 1/4 mile run with Small Fry afterwards, and be able to enjoy it.
I've been so afraid that by trying to sub-2 this race, I will end up in Wanna Vomit Land again after the finish, and not be able to have fun with Small Fry when he races later. I don't want that to happen.
So that's that. I've decided that the last 24 days of my training will focus on mileage, not speed or hills. I'll still put in the miles--long runs will continue as usual, and I'll still be running 3 weekdays in between them. But it's time for me to find the
fun
in running again--and I think that means taking a step away from the limit-pushing. It's time for me and the road to become buddies again, not adversaries. I run because I love it...but for me (at least right now), loving it does not include constantly trying to reach that next level. Sometimes, the level I'm on is just fine.
Maybe I will PR anyway (I
PR'd in the 5K last September
when I didn't care about my pace at all--another very telling situation). Maybe I'll be slow as molasses. But I'm determined to have a GREAT race day, no matter what.
Runners, have you ever struggled with your training goals? Do you ever find it hard to focus on your true goals when social media barrages you with everyone else's? What would you say was the most fun race you ever completed?