If you follow me on
Instagram
, you already know this, BUT...there will be no marathon for me next month.
I know. BOOOOOOOOOOOOOOOOOOOOOO. Trust me, I'm right there with ya.
As I mentioned in previous posts, I've had a nagging injury since the first week of July, and an orthopedist finally made it official when he diagnosed me with a calf strain. Which is pretty much exactly what I expected, though it does certainly suck to hear it, especially when it's followed by the prescription of NO running (like at all. Like zero. Like NONE) for 6 weeks.
Let's see...6 weeks from my doctor's appointment puts me at...September 15. THREE days before the Rochester Marathon.
Yeah, I emailed the race director that very day, and asked to move down to the half marathon. And even that should be real interesting to complete with zero running leading up to it! But since I've got several halfs under my belt already, at least it's a beast that I know how to fight.
That said, I'm handling this change of plans better than expected. Don't get me wrong--I had my mourning period, though it took place well before the doctor's appointment (I knew deep down from the start that this injury was not going away easy). I had a miserable couple of weeks when I couldn't BELIEVE that this year of hard work was going to end without me completing 26.2. When I got down on myself and didn't want to work out at all. When I wondered if I should give up running completely, forever.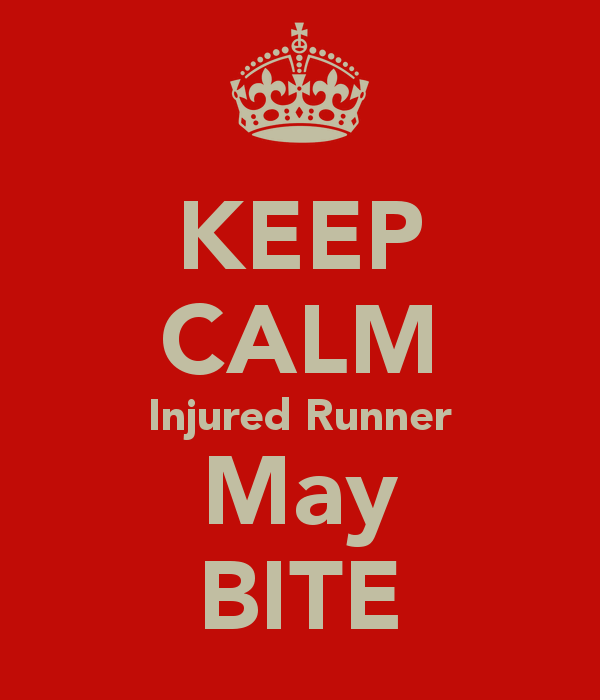 However, right before we went on vacation, I promised my husband that I would use the time away to step back from my injury, and running in general, and try to clear my head. And I did exactly that. A week away in the beach air did wonders, and I came home feeling okay about the loss of the marathon (even before the doc made it official).
In fact--I will go so far as to say that this injury has been a blessing in disguise. Let me count the ways:
1. Once I decided not to do the marathon, I realized that there was a part of me that was a tiny bit relieved. I signed up for it as part of the Rochester 4 Seasons Challenge, which I was very excited about, but I was NOT pleased that my first marathon would be on a hilly, two-loop course. The two loops bothered me the most--I've done two-loop 10Ks (running the same 5K route twice), and the mental challenge of completing a hard course and then doing it AGAIN is painful. Now put that on a marathon...I was prepared to do it, but very nervous. Now that I won't be running the Rochester full, I can choose a different first marathon experience that might play more to my strengths as a runner.
2. I have learned a LOT of patience. I am not a patient person. I tried a billion remedies to get rid of this injury...more foam rolling, icing, elevation, massage, compression, stretching, ibuprofen, blah blah blah. But the ONLY fix for this calf strain is no running, and 6 weeks of waiting. Patience required.
3. I have now learned the difference between a real injury and normal post-run soreness. This is my first true running injury. Every other ailment I've had while running has been an ache or pain that was easily remedied by taking an extra rest day or two, and foam rolling a bit more. This pain felt different from the start, and now I know going forward what's worth trying to run through, and what's not.
4. If I had to get injured, this isn't the worst thing that could happen. For a while I was concerned that this was an Achilles-related injury, which is NOT good news, as Achilles injuries tend to recur for runners. But a calf strain, while slow to heal, WILL heal. And then I can move on. So I have to be thankful for that.
5. It's like a billion degrees outside right now, and I'm completely not jealous of those of you running in it. ;)
So, just over a month til the Rochester half--what am I doing if I'm not running? Well, the only activities that hurt my calf are running (duh) and jumping, which eliminates a lot of plyometric-based workouts from my regimen. (I tried a BodyCombat class last week to cross train, and it was very no-bueno on my leg with all the jumping and kicking.) However, there are a lot of other cross training activities that feel just fine. I've put in a LOT of time on the stationary bike (both in spin classes and in the gym). It's giving me a killer cardio workout, and I better be able to fly up some hills once I start running again, because my quads are killing me!! :) I've done some swimming as well, plus lots of yoga and strength training (I still love BodyPump!). Plus, my friend Michelle just loaned me her road bike, so I might be able to take all this spinning out on the roads starting this week--woohoo!
At this point, I'm just trying to keep my fitness level up enough to finish this race without completely dying. I am VERY interested to see how all this cross training plays out in the race...am I headed for success, or a hot mess? Stay tuned, because we're gonna find out soon enough!