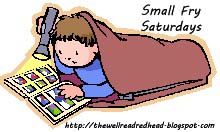 Small Fry Saturdays
is a weekly feature here on the Well-Read Redhead, in which I showcase books that my little 2.5-year-old Small Fry is currently reading with me. Here are links to all of the past Small Fry Saturday reviews, organized by author:
Bently, Peter
Underpants, Thunderpants!
Boynton, Sandra
Pajama Time!
Brown, Margaret Wise
The Runaway Bunny
Campbell, Rod
Dear Zoo
Carle, Eric
Does A Kangaroo Have A Mother, Too?
Dewdney, Anna
Llama Llama Red Pajama
Dunrea, Olivier
Merry Christmas, Ollie!
Fox, Mem and Helen Oxenbury
Ten Little Fingers and Ten Little Toes
Frazee, Marla
Santa Claus The World's Number One Toy Expert
The Goodnight Our World series
Hills, Tad
Duck & Goose Find A Pumpkin
Horacek, Petr
Suzy Goose and the Christmas Star
Martin Jr, Bill and John Archambault
Chicka Chicka Boom Boom
Saltzberg, Barney
Peekaboo Kisses
Shay-Zapien, Tom
Jingle All The Way
Shealy, Dennis
I'm A T.Rex!
Stein, David Ezra
Pouch!
Sutton, Sally
Roadwork
Tillman, Nancy
On The Night You Were Born
Tullet, Herve
Press Here
Yolen, Jane
How Do Dinosaurs Say Good Night?