Hey there readers! Welcome to my newest Small Fry Saturday installment.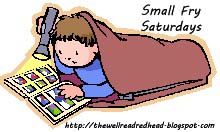 As you may remember, Small-Fry Saturday is a when-I-feel-like-it meme to showcase some of books that my 2-year-old Small Fry is currently reading. Feel free to do a SFS post on your blog (with the graphic above) or leave a comment below about your favorite kiddie reads.

This week's selection is...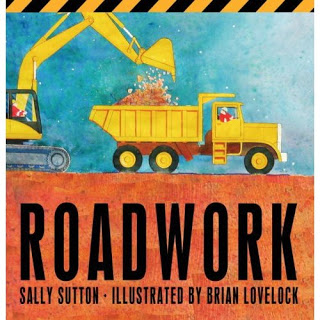 Roadwork by Sally Sutton
NEW BOOK ALERT! Small Fry received this book from
my friend Cari
as a birthday gift a couple of weeks ago, and he is full-on addicted to it. I knew I had to feature it on Small Fry Saturday right-quick once I realized we were reading it a minimum of 10 times a day.
Roadwork
is pretty much the ultimate book for two-year-old toddler boys that love trucks. The book traces the steps that construction workers have to take in order to mark out and pave a new road. Each page has the same rhythm and includes some fun sound effects for the adults to act out:
"Load the dirt. Load the dirt. Scoop and swing and drop. Slam it down into the truck. Bump! Whump! Whop!"
Kids love the cadence and the funny noises, and adults...you're lying if you tell me you don't think this book is fun to read out loud.
The illustrations (by Brian Lovelock) are clear and colorful. If you have a tiny truck-lover in your life, this book is a great choice to keep them entertained.
Any other fun toddler-age books about construction that you would recommend for Small Fry?