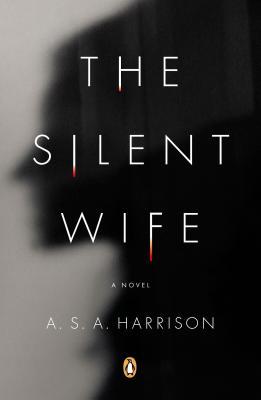 Title:
The Silent Wife
Author: A.S.A. Harrison
Publisher: Penguin
Publication Date: June 25, 2013
Source: e-ARC received from the publisher via NetGalley, in exchange for an honest review
Plot Summary from Goodreads: (kind of spoiler-y, does not get my seal of approval)
Jodi and Todd are at a bad place in their marriage. Much is at stake, including the affluent life they lead in their beautiful waterfront condo in Chicago, as she, the killer, and he, the victim, rush haplessly toward the main event. He is a committed cheater. She lives and breathes denial. He exists in dual worlds. She likes to settle scores. He decides to play for keeps. She has nothing left to lose. Told in alternating voices, The Silent Wife is about a marriage in the throes of dissolution, a couple headed for catastrophe, concessions that can't be made, and promises that won't be kept. Expertly plotted and reminiscent of Gone Girl and These Things Hidden, The Silent Wife ensnares the reader from page one and does not let go.
My Review:
"Jodi's great gift is her silence, and he has always loved this about her, that she knows how to mind her own business, keep her own counsel, but silence is also her weapon. The woman who refuses to object, who doesn't yell and scream--there's strength in that, and power."
Anything that gets compared to
Gone Girl
= immediately added to my TBR list. No questions asked. Such was the case for
The Silent Wife
, which promised me a completely dysfunctional couple, lots of drama, and death. COUNT ME IN. (I am so morbid.) Apologies if I contrast it a lot to Gillian Flynn's novel, but I think it's fair to use that as a comparison point when the book's own description mentions it, eh?
If you skipped reading the plot summary I provided above, GOOD--this is one of those instances where I think the plot description is way too spoiler-iffic. It gives away a big event in the novel that I think is better approached without any forewarning. As I've been known to do, I only skimmed the summary of this book before reading, so that particular event was a surprise for me. This built the suspense of the novel more than if I had known about it from the start. However, even if you did read the summary, I think you'll find this novel has more than enough drama to keep you glued to the pages.
Is
The Silent Wife
exactly like
Gone Girl
? Nope. It does have some similar elements: a very dark and foreboding atmosphere. Two characters that are completely unreliable in their accounts of each other. Terrible actions that each character finds justifiable in their own ways. But beyond that,
The Silent Wife
is a drama all its own.
For one, it's not nearly so twisted as
Gone Girl
. I know that a lot of people who didn't like
Gone Girl
were particularly turned off by the extremity of some of the twists--they were too much of a reach. I never felt this way in
The Silent Wife
. Dark, hateful, amoral things happen throughout the plot, but the characters almost seem to stumble into them innocently. This keeps the plot action from feeling contrived, to the point where things like cheating, lying, and yes, even murder, seem completely natural for this cast of characters.
The two protagonists, Jodi and Todd, are endlessly interesting to me. Jodi is calm and cool on the outside, but tension and suspense simmer around her constantly as you get further and further into her psyche. She's a psychologist by trade, and as a therapist she feels that she knows deeply about herself; however, as the novel progresses it becomes clear that her persona is far more complex than she lets on. On the flip side, Todd is so self-centered, he can never truly see how his actions impact others. Jodi is self-centered too, but in a different way--her obsession with routine and neatness blinds her to reality much of the time:
"No need to stare reality in the face if there's a kinder, gentler way. No need for all that grim urgency."
I could spend hours psychoanalyzing these two, and maybe that's half the fun of the novel.
The only downside, for me, was in the ending. It's not bad, but I felt like there were a few too many coincidences thrown in at the end to tie it up. I'm not a big fan of the "convenient" ending, and this had a tinge of that. However, the book
did
manage to keep me thinking about it long after I read the last word--so it's not a loss by any means.
The Silent Wife
was a winner for me. Jodi and Todd aren't nearly as insane as
Gone Girl
's Amy and Nick, but their subtlety plays well on the page. I needed a fix in the dark fiction department, and I got it in spades. I may not have adored the ending, but the rest of the novel wormed itself so far into my brain that I'll forgive the conveniences that were thrown in at the end.
So, readers, what else can I read to follow up on my "dark fiction" fixation?