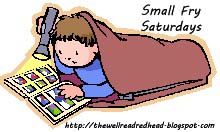 It's time for installment #17 of
Small Fry Saturdays!
This is a when-I-feel-like-it meme to showcase some of books that my 21-month-old Small Fry is currently reading. Feel free to do a SFS post on your blog (with the graphic above) or leave a comment below about your favorite kiddie reads.
Ten Little Fingers and Ten Little Toes by Mem Fox and Helen Oxenbury
I received this book as a gift for one of my baby showers. For a long time, Small Fry wasn't really interested in it--I think mostly because the illustrations are in rather muted colors, so when his book "reading" was very eye-catching-dependent, this wasn't a favorite. However, it is now a nightly read in our house. He's at an age where he loves pointing out his fingers and toes, AND he loves pointing at babies/kids in pictures ("bay-beeeee"). This book has PLENTY o' that, so he rightly adores it.
One of the things I like about this book is the diversity of kids that it portrays. Basically each part talks about two kids...for example, one little baby "lives in a tent" and another little baby "born on the ice", etc. It includes babies that are white, black, Asian, etc. and a wide variety of homes that they grow up in. But both babies always have 10 fingers and 10 toes. This is a nice way to incorporate visuals of diversity at a very early age.
This probably isn't a great pick for the itty-bitty newborns due to the lack of pop-off-the-page pictures, but for ages 18 months and up, this is a fun read with a nice message behind it.
What are some of your fave kid's books that illustrate diversity (in any form)?