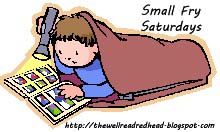 It's time for installment #12 of
Small Fry Saturdays!
This is where I do a weekly showcase of books that my Small Fry is currently reading. Feel free to do a SFS post on your blog (with the graphic above) or leave a comment below about your favorite kiddie reads.
Jingle All The Way by Tom Shay-Zapien
For my last Christmas-related children's book of the year, I'm reviewing a book that Small Fry received as a gift from my mother-in-law this week!
Jingle All The Way
is actually an "interactive story buddies" book, which means it comes with a stuffed Jingle the dog. You turn Jingle on before you start reading, and then when you read key sentences in the book (highlighted in red), the stuffed Jingle will bark/sing/whine/etc with the story. It's a cute concept!
The book itself is heartwarming. Jingle roams the streets, but particularly loves hanging out with the children at the local elementary school. On Christmas Eve night, he is looking for a home to stay in, but can't find one. He accidentally curls up to sleep in Santa's sack, and Santa delivers him to a little boy's house on Christmas morning. (Let me hear it: "Awwwwwww.") The story is great, and Jingle is just so darn adorable (the illustrations of him are almost better than the actual stuffed dog!).
As for the "interactive" part, that is a little less awesome. You can have literally NO background noise going on when you read, or else Jingle won't play along. Case in point: the first time my husband tried reading it, the dishwasher was running in the next room, and he couldn't get Jingle to react when he read (or, shouted) any of the prompting lines. I can only get it to work if I'm sitting in complete silence. (Just picture me sitting in my living room, screaming repeatedly at a stuffed dog: "And Jingle was a good boy!...AND JINGLE WAS A GOOD BOY! GAHHHH!") So the interactive-ness is a neat idea, but definitely not ideal (especially when reading to a busy/noisy toddler).
Even so, I'm glad Small Fry gets to enjoy this book, and he loves squeezing his fluffy Jingle...even if the dog is a little bit hard of hearing.
What new books did your Small Fries receive from Santa this week?