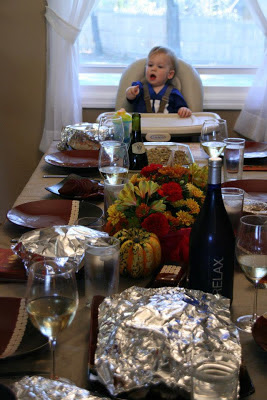 Small Fry demands turkey satisfaction.
November...was crazy. Reading wise, it was great. I liked pretty much every book I read (felt a little lukewarm about 1-2, but overall, I'd say I at least liked them). Some months aren't always like that. Back in July or so, I felt like I was reading NOTHING but bad books. Luckily that was before the blog was born, so you did not need to share in my misery. :)
Just to add a little spice to my monthly wrap-ups, I've decided to name my favorite, and least favorite, book read each month
. Which is really hard this particular month, given that none of my books were very low on the rating scale! Sooooo:
November 2012 Favorite:
This Is How You Lose Her by Junot Diaz
November 2012 Least Favorite:
Landing by Emma Donoghue
With that, let's review the rest of my reading month.
I read and reviewed 7 books (click links for my reviews):
Dreams From My Father by Barack Obama
Being Santa Claus by Sal Lizard with Jonathan Lane
This Is How You Lose Her by Junot Diaz
The Light of Amsterdam by David Park
Landing by Emma Donoghue
Deadline by Mira Grant
A Wrinkle In Time by Madeleine L'Engle
I also posted 2 mini reviews of past reads:
Shutter Island by Dennis Lehane
In The Woods by Tana French
And I posted 4 new Small Fry Saturdays!
Dear Zoo by Rod Campbell
Peekaboo Kisses by Barney Saltzberg
Pajama Time! by Sandra Boynton
I'm A T.Rex! by Dennis Shealy
In the midst of all this, I shared
deep thoughts about self-published novels
, tried to find
ways to read without ignoring my husband
, talked about my
hotly-anticipated 2013 releases
, and hosted another
giveaway
.
Nowadays, I am gearing up for the Christmas season in a big way. Luckily, I am nearly done with shopping, so now I can concentrate on kissing under the mistletoe and keeping my toddler out of the tree. :) And of course, MORE READING!
Do you have any favorite Christmas-themed reads?