This recap will be short and sweet, because life is just crazy up in here lately. First, sadly, my aunt passed away on the 31st after a long battle with cancer. This is obviously very upsetting for our family, and we are in the midst of figuring out all the arrangements, so I may be MIA a bit around here (as I'm sure you understand).
Also crazy for good reasons though. Of course, Halloween came and went, which was much fun for our kiddos, especially Small Fry. It's fun to see how trick or treating has progressed with him over the years. At age 3, he is really starting to get into it, and he had a blast going door to door that night. I had a blast too, especially when he got to the house giving out full size Snickers bars. Because that's probably a little too much sugar for a three year old, right? So Mommy and Daddy might just have to confiscate that...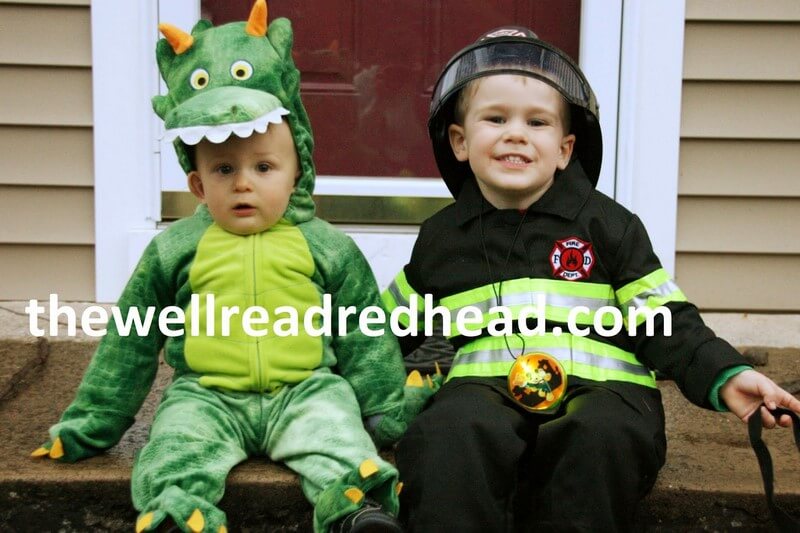 The firefighter puts out the fires that the dragon starts, of course.
Anyway, let's talk reading!
In October I read 5 books:
Larger Than Life
by Jodi Picoult
The Haunting of Hill House
by Shirley Jackson
Man V. Nature
by Diane Cook
Wonder
by R.J. Palacio
Leaving Time
by Jodi Picoult
In addition, we did a little
Six Degrees of Separation
with
1984
, and I gave
two thumbs way up
to the Gone Girl movie.
November is now upon us, and I am SUPER PUMPED for Nonfiction November! Post about that coming tomorrow. Definitely going to get my nonfic groove on this month.
How was your October, friends? Any fun Halloween costumes to share?