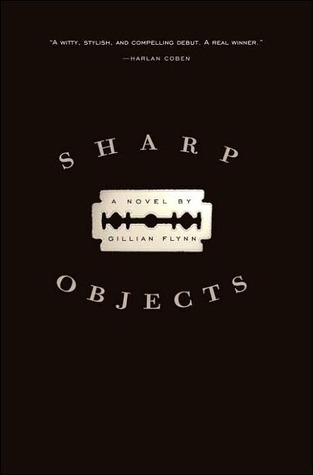 Title:
Sharp Objects
Author: Gillian Flynn
Publisher: Shaye Areheart Books
Publication Date: September 26, 2006
Source: personal purchase
Plot Summary from Goodreads:
WICKED above her hipbone, GIRL across her heart
Words are like a road map to reporter Camille Preaker's troubled past. Fresh from a brief stay at a psych hospital, Camille's first assignment from the second-rate daily paper where she works brings her reluctantly back to her hometown to cover the murders of two preteen girls.
NASTY on her kneecap, BABYDOLL on her leg
Since she left town eight years ago, Camille has hardly spoken to her neurotic, hypochondriac mother or to the half-sister she barely knows: a beautiful thirteen-year-old with an eerie grip on the town. Now, installed again in her family's Victorian mansion, Camille is haunted by the childhood tragedy she has spent her whole life trying to cut from her memory.
HARMFUL on her wrist, WHORE on her ankle
As Camille works to uncover the truth about these violent crimes, she finds herself identifying with the young victims—a bit too strongly. Clues keep leading to dead ends, forcing Camille to unravel the psychological puzzle of her own past to get at the story. Dogged by her own demons, Camille will have to confront what happened to her years before if she wants to survive this homecoming.
My Review:
My first
"30 before 35"
book already! I knew that giving myself a reading challenge would push me to finally get to a few of those novels...
Remember how hard I crushed on
Gone Girl
last year? If I love something enough to describe it with an atomic bomb GIF, it must be pretty okay. And it made me want to read everything Flynn had written prior. But, as per usual, I got distracted and never managed to pick up one of her other novels...until now.
Sharp Objects
is Flynn's first book, and I went into it with high expectations. How could I not, after loving
Gone Girl
so much? This would normally be a recipe for disaster (my high reading expectations are rarely met), but in this case, Flynn delivered yet again.
The description of this novel made me feel like this was going to be your average "whodunit". Camille isn't a cop, but as a roving reporter and native to the town where these murders of young girls are occurring, she's in a unique position to uncover the truth. However, I quickly realized that this was more than an average mystery. In the first quarter of the book, I found myself feeling...generally unsettled. You are nagged by the constant sense that there is something "off" about the entire scenario. Something's not right with the town...with Camille's family...and with Camille herself. Flynn has a way of weaving in tiny details and snippets of conversation to give you this foreboding sensation, even as the action of the plot seems to be moving along otherwise normally. This is one of the things I absolutely adore about her writing. She has a way of creating feelings of shock, dread, and horror in a very subtle way, something that I think a lot of thriller writers fail to do. They go for the gusto with big plot reveals and grotesque murder scenes, whereas Flynn's pull comes from the mounting sense of unease that unfolds in the narrative.
After reading
Gone Girl
, I went into
Sharp Objects
expecting a killer ending. I was not disappointed! Just when I thought the final loose end had been tied up, Flynn turned the conclusion on its head and left me with an awful lot to process. I ended up re-reading the last 5% of the book just to make sure I caught up with everything that happened. I was happy for this, because up until that last part, I felt like the ending had come together a little too...clinically, for lack of a better word. But the final twist gave it a macabre finale that fit the rest of the novel perfectly.
You guys, I almost don't want to read Gillian Flynn's other novel,
Dark Places
. Because that will mean I read all of her stuff and I have to wait around for her to write something else. GAH. I loved this book. LOVED.
Have you read Flynn's two lesser-known novels? What did you think?