Let's celebrate, readers! Today marks the end of my third decade on this glorious Earth, and the beginning of my fourth. That's right, it's my birthday, and I'm turning the big 3-0. HUZZAH!
I have never been one to fear "big" birthday milestones, this one included. I'd like to think that I packed an awful lot into the last decade. Graduated college, met/dated/married my husband, got my first (two) real jobs, earned a masters degree, hiked a bunch of mountains, traveled to over 10 different countries, ran a 15k, bought a house, got a dog, had a kid, sold the house and bought another one, and now am nearly ready to pop out another baby. And those are just the highlights. If anything, 30 is a celebration of all that awesomeness, plus a mark of anticipation for what's to come. BRING YOUR A-GAME, THIRTY.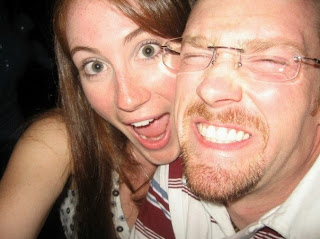 Me and Husband on my 24th birthday, 6 years ago. So young. So carefree. So weird.
In honor of this most momentous of birthdays, I decided to challenge myself and compile a list:
30 books to read before I'm 35.
However, when I started making the list, I quickly realized that there were more than 30 books that I really, really want to read sometime in the next few years. Actually, there were 53 on the original list. I kept cutting it down, until finally I got it to 40, and decided that DAMMIT, I am 30 years old, I can break a rule here or there.
So now the list is:
30 Books To Read Before I Turn 35
(plus 10 more, because I'm 30 and I DO WHAT I WANT)
This list might seem odd to you in parts, but it's a mix of classics (which I am always trying to read when I have the time), books that have been on my TBR forever for whatever reason, and more popular recent books that I am dying to read but just never made the time for. So, without further ado!
The World According to Garp
by John Irving
The Fault in Our Stars
by John Green
The Fountainhead
by Ayn Rand
Atlas Shrugged
by Ayn Rand
The Historian
by Elizabeth Kostova
1776
by David McCullough
The Brothers Karamazov
by Fyodor Dostoyevsky
The Last of the Mohicans
by James Fenimore Cooper
The Gunslinger
by Stephen King
Paper Moon
by Joe David Brown
Outlander
by Diana Gabaldon
Gone With The Wind
by Margaret Mitchell
Vanity Fair
by William Makepeace Thackaray
Watership Down
by Richard Adams
Go Ask Alice
by Anonymous
The Whole Fromage
by Kathe Lison
Brave New World
by Aldous Huxley
anything by Agatha Christie (never read one!)
Rabbit, Run
by John Updike
The Color Purple
by Alice Walker
Ulysses
by James Joyce
Finnegan's Wake
by James Joyce
Interpreter of Maladies
by Jhumpa Lahiri
Macbeth
by Shakespeare
Columbine
by Dave Cullen
Jordan Freeman Was My Friend
by Richard White
A Tale of Two Cities
by Charles Dickens
Commencement
by J. Courtney Sullivan
Dark Places
by Gillian Flynn
Sharp Objects
by Gillian Flynn
Bag of Bones
by Stephen King
The Odyssey
by Homer
Fall of Giants
by Ken Follett
Incendiary
by Chris Cleave
The Passage
by Justin Cronin
Where'd You Go, Bernadette
by Maria Semple
Moby Dick
by Herman Melville
The Dinner
by Herman Koch
American Gods
by Neil Gaiman
Dracula
by Bram Stoker
I will keep the blog updated with any reviews I do of these novels along the way. Make sure you cheer me on...5 years goes by in a blink, and when I walk into a library I get easily distracted by well-made book displays.
What do you think of the list, friends? Anything I should have added? And what's your take on big birthday milestones: fearsome or fantastic?