Hello readers! Just an FYI that I will be MIA for a few days...because my little (not-so-little anymore) brother is getting married this weekend!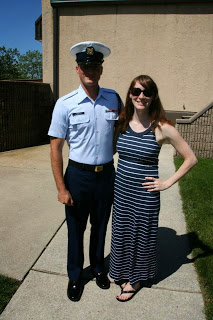 Visiting little bro on the job this past June. And to think I used to push him around and steal his Halloween candy.
We are off to Cape May, NJ to celebrate the big day with him and his beautiful bride (seriously, my brother is marrying a girl who could runway model, it's craziness). I am super excited for them, as well as for Small Fry's big debut in the ring bearer role! :)
I hope everyone has a great weekend of reading. We have about 8 hours of driving to do each way, so I'm hoping to finish up the end of
Doctor Sleep
, and/or make some progress in Wally Lamb's
We Are Water
. Both reads are fantastic so far!
What will YOU be reading while I'm away?