Ah, September. That means 2 things:
1. Summer is nearly over, but that's okay because
2. September is my birthday and our wedding anniversary. Woohoo!
Yes indeed, September is one of my very favorite months. Not only for the two reasons listed above, but because I do love the onset of fall. Cuz let's face it: warm weather is awesome, but sometimes it's nice when the weather gets cooler, you can wear jeans, and you don't have to shave your legs every five seconds. #realtalk
This summer has been pretty great though. We went to our friends' camp in the Adirondacks a couple weeks ago with the kids, and it was a blast. Bonfires, smores, kayaking, fishing, boat rides on the lake...YES PLEASE. It was an awesome way to cap off a summer full of outdoorsy goodness.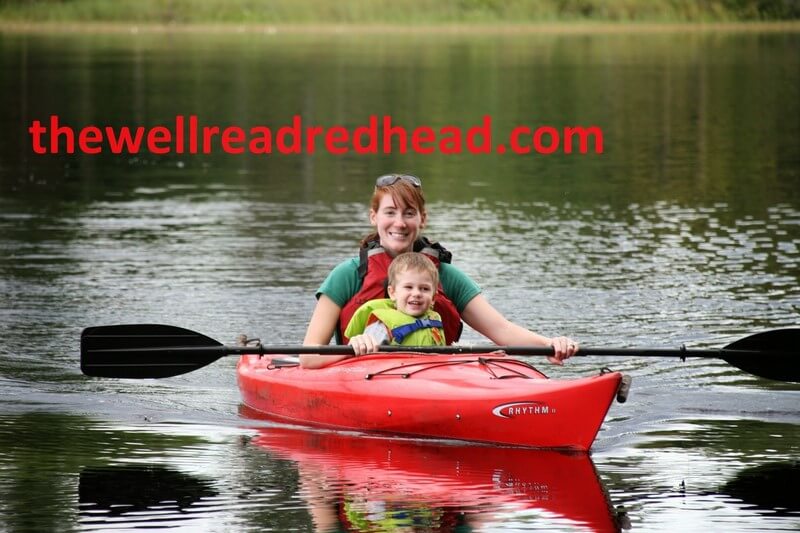 Kayaking with mah boy
Plus, I somehow managed to be more present on the blog! Let's recap August...
In August I read 3 books:
Gone With The Wind
by Margaret Mitchell
We Were Liars
by E. Lockhart
Special Topics in Calamity Physics
by Marisha Pessl
I also talked about books that I
kinda sorta don't want to read
, and celebrated my
2 year blogoversary
. WOOP.
September will be crazy, because Small Fry is starting preschool (somebody get me my fainting couch), I have the two super-fun "holidays" that I mentioned above, and I'm running my half marathon. (Related: if there are no posts here after September 21st, please begin a search for my sore, creaky-kneed body somewhere on the half marathon race course.) All joking aside though, I'm pretty stoked for it. Stay tuned for a race report!
Bookishly, I'm planning to read my next
TBR Book Baggie
pick (
Someone Like You
by Sarah Dessen), and...I have no idea what else. Isn't that lovely?? Perhaps I'll attack something on my
30 before 35
list...it's in need of some attention.
How was your summer, friends? What's up next on your reading list?