Happy Sunday, reader friends! I have a small point of discussion that I'd like to bat around with you today.
I've been reading The Blonde by Anna Godbersen for a couple of weeks now. Usually, it would be odd for a relatively short novel such as this to be taking so much time for me to read. Especially an ARC copy that I specifically requested through Edelweiss (which I don't often do). But despite my best efforts, I am positively slogging through this thing. Only 30% complete in the last two weeks, and it's looking more and more like this could be a DNF.
What's that, you say?? Kelly might have her SECOND DNF of the year? I know, you're beside yourself with the horror. I'm just far too type-A to not finish books most of the time, but I do feel like this might be the
second case in recent months
.
That said, part of me is starting to suspect that my disappointment in both this novel and June's
The Hollow Ground
can't be entirely attributed to the contents of the books themselves. It's still primarily that, but...perhaps a little bit of it is influenced by the format. Because you see, these two books were the last two that I read in Kindle format.
That's right. I'm afraid I might be practicing Kindle discrimination. Kindle-ism? Whatever. Either way, it's no good.
I know I often sing the praises of my Kindle, especially the Paperwhite. The back light! The "time left to read" counter! The 3G capabilities! And it absolutely helped me survive late-night feedings when Tater Tot was a newborn.
Totally me 6 months ago.
However, I think I reached a stage of Kindle burnout a few months back. Early in the summer, I went to the library for the first time in a while, and took out a stack of real, honest-to-goodness, PAPER books. And you know what? IT FELT AWESOME. A real book in my hand! Using a bookmark again! And of course, BOOK SMELL! Yes, they're unwieldy at times, and they make night reading a challenge if you forget your book light, but this summer has been one of happy paper book reading for me.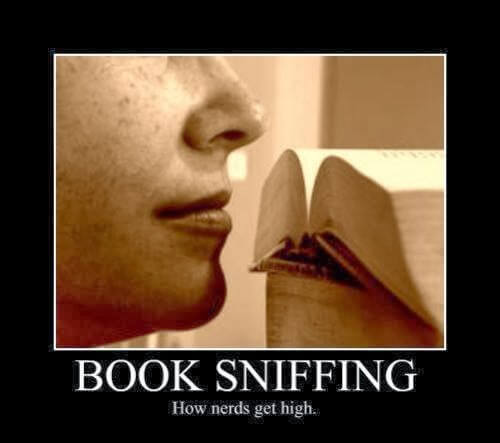 True dat.
Due to this shift in preference, I've found it much harder to read on my Kindle lately. It just doesn't hold my attention the way a paper book does, if that makes any sense at all. And while I don't think this means the two recent DNF novels were actually amazing and their electronic format was all to blame, I do think it made an already mediocre novel feel even worse.
I'm not sure what to think of this. Is my Kindle-averse tendency just a temporary thing? Will I get my electronic mojo back soon? Or is it a matter of circumstance--when I'm in a place where the Kindle will help me read easier, perhaps that's when I'll fall in love again?
What say you, readers? What are your thoughts on ebook vs. paper formats? Do you prefer one over the other, or does your love flipflop in both directions? Do you feel like book format influences your feelings about a novel?
*Many other bloggers have tackled this issue as well! One post that comes to mind is Rinn's over at
Rinn Reads
. Any other bloggers have a post that they've contributed to this topic?