Good day to you, reader friends! Yes, it has been two whole years since
I started this bookish adventure
at The Well-Read Redhead. CELEBRATION TIME, YO! In the last year, I've posted
53 book reviews
...not as good as the 98 of my first year, but I'll still pat myself on the back, considering that I've moved (twice), left my job, and had baby #2 within the last 365 days. Thanks for tagging along for one of the craziest years of my life!
I know things slowed a lot around here lately, but I SO appreciate all of my readers, and I hope you have as much fun in my literary corner of the internet as I do. I'm looking forward to more good times in year 3...who's with me??
In honor of all my wonderful followers, I am offering a giveaway. And it's INTERNATIONAL! Just fill out the Rafflecopter below, and you'll be entered to win $10 from Amazon to use towards the book of your choosing. I know, controversy with authors etc etc etc, but whatever. Don't look a gift horse in the mouth, peeps!
If the winner is from the US, I will also throw in 2-3 books off my shelves that I'm looking to give away. Except I haven't decided which ones are going yet, so it will be a glorious surprise for the winner!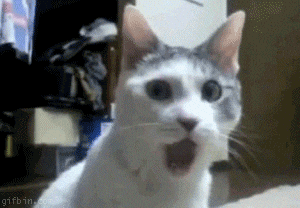 Your face if you win the surprise box of books. YUP.
Thanks again all...and keep on reading with me!
a Rafflecopter giveaway