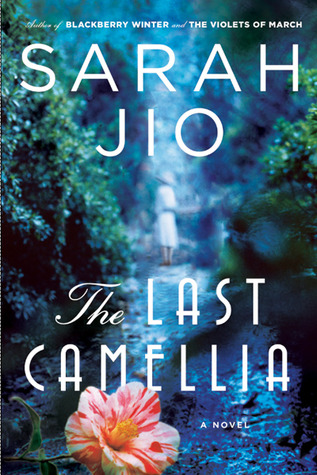 Title:
The Last Camellia
Author: Sarah Jio
Publisher: Plume
Publication Date: May 28, 2013
Source: won in a giveaway on Nadia's blog (A Bookish Way of Life)
Plot Summary from Goodreads:
On the eve of World War II, the last surviving specimen of a camellia plant known as the Middlebury Pink lies secreted away on an English country estate. Flora, an amateur American botanist, is contracted by an international ring of flower thieves to infiltrate the household and acquire the coveted bloom. Her search is at once brightened by new love and threatened by her discovery of a series of ghastly crimes.
More than half a century later, garden designer Addison takes up residence at the manor, now owned by the family of her husband, Rex. The couple's shared passion for mysteries is fueled by the enchanting camellia orchard and an old gardener's notebook. Yet its pages hint at dark acts ingeniously concealed. If the danger that Flora once faced remains very much alive, will Addison share her fate?
My Review:
I have to admit--I was a little unsure of how I would do with this novel. You may remember that I read my first Sarah Jio novel (
Blackberry Winter
) earlier this year, and it left me feeling kind of "eh". Liked it, didn't love it. I was surprised, because so many people had raved to me about Jio's work, but
Blackberry Winter
was too predictable for me to completely get on board. However, I was determined to give her another shot, and
this giveaway win from Nadia
came at the perfect time for a second try.
The Last Camellia
fits well into a variety of genres: romance, historical fiction, and mystery being the primary categories. I'm not usually a romance reader, but the relationships in this novel are not overly schmoopy or steamy. They add a warm and fuzzy "background music" to the plot, if you will. As for the historical fiction, that is one area that I knew Jio would excel in after reading
Blackberry Winter
. I really enjoy how she merges the past with the present rather seamlessly, as modern-day Addison entwines herself in the question of what happened to Flora and the residents of Livingston Manor in the 1940's.
As for the mystery--this is where I was wary at first. I was afraid that I would see the finale a mile away, and I simply can't stand a mystery that lacks, well, mystery. HOWEVER, that was completely not the case here. While I did have some hunches along the way about "whodunit", in the end I was quite surprised by the ending. There are so many complicated players in this story that I think even the hints you do receive leave you feeling hesitant before you draw any big conclusions.
I'd say that my only hiccup with this novel is that some of the major events that occur happen rather abruptly. For example, Addison is hiding a big secret from her husband (don't worry, not a spoiler--you find that out pretty much on page one), and when it's finally revealed, the unveiling is rather quick and terse. Same goes for some of the events that wrap up the ending. Given the flowing, beautiful prose of the rest of the novel, these too-quick bursts of action stick out like a sore thumb. However, I'd say this is more an issue of styling than anything else, and it doesn't detract from how much I liked the story overall.
Sarah Jio was originally recommended to me as "the lesser-known Jodi Picoult", and I absolutely see that comparison in
The Last Camellia
. A fluid blend of past-meets-present, a little bit o' love, and a good mystery = a reading win. I'm feeling much more interested in trying Jio's other novels!
GIVEAWAY TIME!
When I won the giveaway on Nadia's blog, I received not one, but FIVE copies of The Last Camellia! So I am keeping one, and graciously giving the other four away. Just fill in the Rafflecopter below for your chance to win! :) (US/Canada only please)
a Rafflecopter giveaway