Hope everyone had a lovely weekend! What are you reading today?
I had a fun book-related activity this weekend, as I volunteered at the
17th annual Rochester Children's Book Festival.
I heard about this right after I moved to the area, and decided it would be fun to volunteer as a way to get to know the event (and the city) a bit better. I am very happy that I did! My shift started at 12:30 but I arrived a little early so that I could check things out. The festival had an impressive list of authors, my fave being Jane Yolen, who writes the
How Do Dinosaurs
series of children's books that Small Fry looooooves. I ended up late to my volunteer assignment (whoooops) because I couldn't help jumping into her autograph line for Small Fry. WORTHSIES!!
(Name edited by me, obviously)
Jane Yolen and Heidi Stemple
Yolen was sharing the autograph line with her daughter, fellow author Heidi Stemple. Jane and Heidi were SUPER nice, asking me about both Small Fry and the increasingly-obvious-under-my-shirt Tater Tot. Afterwards I volunteered at the main lobby greeting table and had a great time seeing all the happy patrons (kids especially!) coming into and out of the event. Overall, I really loved doing this and I can't wait to take Small Fry next year...I think he will adore it.
Soooo what am I reading these days?
Lean In by Sheryl Sandberg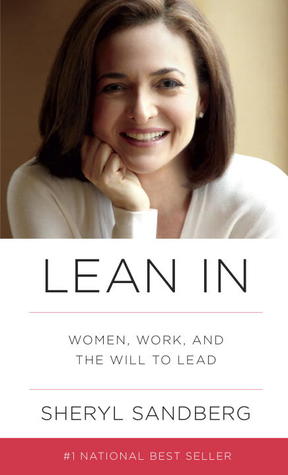 Sandberg is the chief operating officer of Facebook and is ranked on
Fortune
's list of the 50 Most Powerful Women in Business and as one of
Time
's 100 Most Influential People in the World. In 2010, she gave an electrifying TEDTalk in which she described how women unintentionally hold themselves back in their careers. Her talk, which became a phenomenon and has been viewed more than two million times, encouraged women to "sit at the table," seek challenges, take risks, and pursue their goals with gusto.
In
Lean In,
Sandberg digs deeper into these issues, combining personal anecdotes, hard data, and compelling research to cut through the layers of ambiguity and bias surrounding the lives and choices of working women. She recounts her own decisions, mistakes, and daily struggles to make the right choices for herself, her career, and her family. She provides practical advice on negotiation techniques, mentorship, and building a satisfying career, urging women to set boundaries and to abandon the myth of "having it all." She describes specific steps women can take to combine professional achievement with personal fulfillment and demonstrates how men can benefit by supporting women in the workplace and at home. (From Goodreads)
I've been meaning to read this ever since it first came out, partially because I can't resist a book that invites controversy, and partially because I am really interested in what Sandberg has to say, especially because I recently left the 9-5 workforce. I'm about half done and loving it. I definitely do not agree with everything Sandberg espouses in her book, but even so, it's extremely thought-provoking and has lead to some pretty interesting conversations with my husband. My review is going to be a mile long when I finally write it (you've been warned).
The Whole Golden World by Kristina Riggle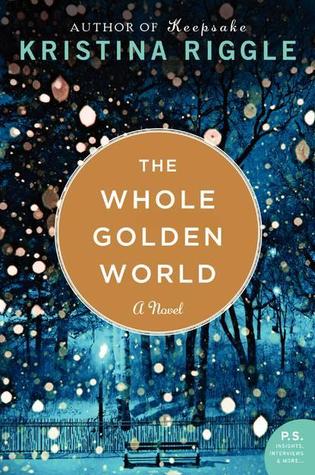 To the outside Diana and Joe have a perfect family-three lovely children, a beautiful home, and a café that's finally taking off. But their world is rocked when it's discovered that their oldest daughter, 17-year-old Morgan is having an affair with her married teacher, TJ Hill.
Their town rocks with the scandal. When the case goes to trial, the family is torn further apart when Morgan sides not with her parents-as a manipulated teenage girl; but with TJ himself-as a woman who loves a 30-year-old man.
Told from the perspectives of Morgan, Diana, and TJ's wife, Rain, this is an unforgettable story that fully explores the surprising, even shocking, events that change the lives of two families. (From Goodreads)
This is a TLC Book Tour for me and I am completely immersed! Fans of Jodi Picoult and family dramas are going to love this one. Can't wait to share my review with you later this week. I'm about 100 pages from the end, and I have no idea how it's going to wrap up--gotta love the feeling of suspense.
What will I read next?
I have a month before my next book tour review, so I'm looking forward to tackling a few things on my shelves--hopefully
The Memory Palace by Mira Bartok
,
Allegiant by Veronica Roth
(gotta finish that series!!), and/or
The Historian by Elizabeth Kostova
.
What's in your reading plans this week, friends?