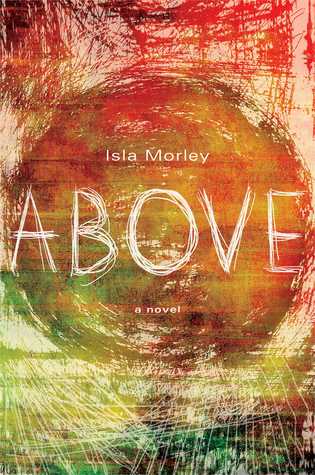 Title:
Above
Author: Isla Morley
Publisher: Gallery Books
Publication Date: March 4, 2014
Source: ARC provided by the publisher via NetGalley for an honest review
Summary from Goodreads:
I am a secret no one is able to tell.
Blythe Hallowell is sixteen when she is abducted by a survivalist and locked away in an aban­doned missile silo in Eudora, Kansas. At first, she focuses frantically on finding a way out, until the harrowing truth of her new existence settles in—the crushing loneliness, the terrifying madness of a captor who believes he is saving her from the end of the world, and the persistent temptation to give up. But nothing prepares Blythe for the burden of raising a child in confinement. Deter­mined to give the boy everything she has lost, she pushes aside the truth about a world he may never see for a myth that just might give mean­ing to their lives below ground. Years later, their lives are ambushed by an event at once promis­ing and devastating. As Blythe's dream of going home hangs in the balance, she faces the ultimate choice—between survival and freedom.
My Review:
Wow. WOW. I am currently sitting in Starbucks, where I just finished
Above
as I was sipping my coffee, and now I'm looking around the cafe like...DID ANYONE ELSE JUST GET THEIR WORLD ROCKED BY A BOOK? No, that was just me? Sigh.
I couldn't help asking for an ARC of this book, because the reviews draw parallels with Emma Donoghue's
Room
--a novel that captivated me, but also one that is very unique in its premise, so I was hopeful that
Above
would finally give me something similar.
Honestly, the comparisons to
Room
are not entirely justified. The novel centers around Blythe, who is kidnapped by an "extreme prepper" who locks her in a missile silo, convinced that the world will soon come to an end and they will one day need to repopulate the earth together. The captivity theme is pretty much the only way that
Room
and
Above
can be compared. After Blythe gets locked in the silo, her journey becomes very, very different from the one that Jack and his Ma go on in Emma Donoghue's novel.
So no, I won't be reviewing
Above
in comparison to
Room
, because it would be doing Isla Morley's novel a disservice...and
Above
is amazing all on its own, without need for comparison to anything.
Above
is the EPITOME of not judging a book by its cover...or in this case, by its book jacket description. My predictions for how this novel would progress (and eventually end) were entirely, completely, unabashedly WRONG. Remember when I reviewed
Gone Girl,
and I said that I finished Part 1 and it was like the whole world exploded?
ABOVE
IS LIKE THAT. The book starts, and Blythe is abducted, and then after a while, I was like, where is this going? I can only read about Blythe's years worth of struggles with her captor for so long, and I still have 70% of this book to finish...? And then, BOOOOOOOM. Major unpredictable game-changer midway through the book that changes your entire perspective of everything--Blythe, her captor, and really the whole central purpose of the novel.
Above
does have its slow parts. As I mentioned, the beginning portion of the novel started to drag for me before the plot got flipped on its head. And towards the end, I started to feel the same way. I think Morley tended to dwell on certain parts of Blythe's journey just a tad too long. However, each transition in the plot action was good enough that I was able to forgive the slow bits pretty quickly.
I can't say much more without getting spoiler-y, but...
Above
. Read it. Love it. Trust. (Then come back here and talk to me about it!)
Readers: have you read any books lately that went in a completely different direction than you originally anticipated?