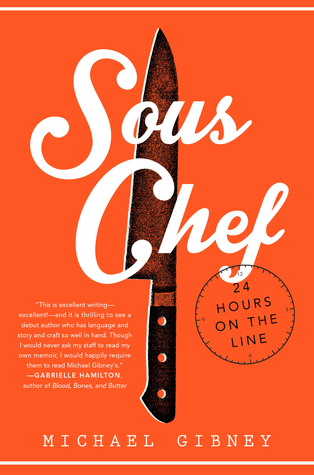 Title:
Sous Chef
Author: Michael Gibney
Publisher: Ballantine
Publication Date: March 25, 2014
Source: ARC provided by the publisher via NetGalley for an honest review
Summary from Goodreads:
The back must slave to feed the belly. . . . In this urgent and unique book, chef Michael Gibney uses twenty-four hours to animate the intricate camaraderie and culinary choreography in an upscale New York restaurant kitchen. Here readers will find all the details, in rapid-fire succession, of what it takes to deliver an exceptional plate of food—the journey to excellence by way of exhaustion.
Told in second-person narrative, Sous Chef is an immersive, adrenaline-fueled run that offers a fly-on-the-wall perspective on the food service industry, allowing readers to briefly inhabit the hidden world behind the kitchen doors, in real time. This exhilarating account provides regular diners and food enthusiasts alike a detailed insider's perspective, while offering fledgling professional cooks an honest picture of what the future holds, ultimately giving voice to the hard work and dedication around which chefs have built their careers.
In a kitchen where the highest standards are upheld and one misstep can result in disaster, Sous Chef conjures a greater appreciation for the thought, care, and focus that go into creating memorable and delicious fare. With grit, wit, and remarkable prose, Michael Gibney renders a beautiful and raw account of this demanding and sometimes overlooked profession, offering a nuanced perspective on the craft and art of food and service.
My Review:
As followers of this blog know, it's a big goal of mine to read down the massive pile of books from my at-home TBR this year. This means less NetGalley surfing and more home-shelves selections. But then NetGalley goes and sends me an email telling me all about
Sous Chef
, and I'm like, "FOODIE NONFICTION, GET IN MAH BELLEH." Couldn't help myself. Had to review.
I've read my fair share of books that take place in professional kitchens, but Gibney manages to make his POV unique. He takes you through a full 24-hour period in the life of a sous chef in a Manhattan restaurant--presumably based on his own experiences as such. It's written in the second-person, which you don't see very often, and in this case, it immerses you in the action of the kitchen from page one.
Despite that, I did have some reservations about the book when it first opened. The beginning (when Gibney is walking you through the preparations for dinner before customers arrive) felt a little "textbooky" to me: a lot of very specific explanations about cooking techniques and sanitation regulations, which got bland after a while. However, once the restaurant opened for business, I was transfixed. Honestly, it left me rather in awe of the skill and synchronicity of the cooks in that kitchen. I've read a lot of foodie nonfic, and I have a fairly good understanding of how difficult professional cooking can be, but this is the first book I've read that really brings you through that entire process, soup to nuts. (Pun intended, because I am lame.) The precision and attention to detail of these chefs is truly impressive, but is also balanced by the reality of how tough their jobs are, both physically and mentally.
The last part of the book focuses on after service--when the chef leaves the restaurant, goes out to get drinks with his fellow chefs, and later returns home. This part of the book lost me a bit. Gibney gets too overly poetic here, as he reflects upon how difficult it is to balance his job with his personal life. His basic point is that this is a very demanding line of work, one that requires much of you and forces you to closely examine your priorities in life. I can appreciate that. However, I could have done without the over-the-top philosophizing, complete with contemplations of the moonbeams shining down on him as he walks home (yes, this was a thing). It felt like he was trying too hard, and the points could have been made more simply.
So, if I break this book into three sections, I'd recap them like this:
Before Service: interesting and draws you in, though perhaps a little overly technical at times.
During Service: absolutely stellar, will leave you in awe of both the skill and difficulty of professional cooking.
After Service: makes some good points, but tries too hard to wax poetic.
Despite my back-and-forth reactions, this book sticks with me as a great read, probably because that middle section is so well done. If you've had good luck with other foodie nonfiction (Bourdain, Ruhlman, etc.),
Sous Chef
is definitely the next one to add to your plate. (Yes, more lame food puns!!)
Sous Chef is being released March 25. Have you read any great 2014 releases yet this year?