Peeps, I JUST realized it was
Bloggiesta
time again yesterday. YESTERDAY! I am a little ashamed of myself.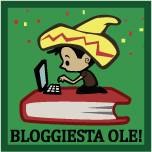 For any who haven't heard of it,
Bloggiesta
is basically a big blogger party that happens all weekend (starting today!) The goal is to take as much time as you can to update, edit, and organize your blog...with the help and encouragement of your fellow bloggers. It's also a great way to find some new blog friends, as I happily discovered when I first participated last September.
My participation probably won't be as good as it was last fall, but I am planning to jump in as much as possible. I have a small to-do list (and thankfully no design problems to tackle):
1. Update my review policy...some parts of it need adjusting.
2. Create a review calendar for the ARCs I have left for this year. I have them all written down, but I want a better view of what my year in reviewing will look like (so that I know where to fit in my other reads).
3. Try to get ahead on some non-review posts, and get them scheduled.
4. Create a blog calendar of intended posts for the month of April. I did this in December/January and it was great, but I fell off the wagon in February.
5. Organize my Google Reader/Feedly account. It's a little out of control. This was also a goal for September's Bloggiesta...fail!
That's it for now, though we'll see if I add to that once I read through the mini challenges...happy blogging, all!