If you've spent any time hanging around this blog o' mine, then you already know that I am a Jodi Picoult
SUPER FAN
. I've read all of her books, and I love her style. She writes amaaaazing family dramas, and she is a fan of the twist ending--something I never tire of.
Every February/March, I wait patiently for her latest release to come out. This year's novel,
The Storyteller
, came out this past Tuesday (woo wooooo!). And imagine my excitement when I saw that she was touring not very far from me, in New England!
("Not very far" being a relative term...the event I went to was 3 hours away in Vermont. But totally worthsies.)
Even better, my friend
Cari
agreed to meet me there, so it was a killer author event and a BFF reunion all in one. SCORE.
The event at the Wilder Center in Wilder, VT was the VERY FIRST stop on her book tour. It started at 9am, and when I checked in, I got a copy of the book--possibly one of the first copies obtained on release day. I felt mighty special, yes ma'am!
Cari and I grabbed our seats and immediately loved the intimate atmosphere of the event. The Wilder Center is a beautiful renovated church, and the organizers brought in a local baker to provide the refreshments. They capped attendance at about 30-40 people, which was perfect--no crowd fighting necessary.
Jodi showed up and was amazingly chipper for 9am! She did an emotional, captivating reading from a Holocaust scene in
The Storyteller
(as Cari said, I would have liked for her to just keep reading me the whole book). Afterwards, she talked to the audience about her inspirations for the novel, which was easily my favorite part of the morning. All of the research she did with Holocaust survivors was fascinating. Honestly, the research she does for
any
of her books is pretty great to hear about (she just got back from Botswana doing elephant research for a future novel). I apologize for not taking detailed notes on her talk (like I have for other author events), but I was enjoying myself too much to take out paper and pen.
There were a few Q+A's at the end, and then the signing began. People, Jodi Picoult is SO FREAKING NICE. She thanked everyone so sincerely for coming, and graciously agreed to take a picture with me. Naturally, I was super excited for that, but unfortunately, my iPhone disagreed. Cari tried to take the picture twice, but my phone wouldn't focus, and we didn't want to hold up the line so we moved on. So here is the photo evidence of me and my new friend JP: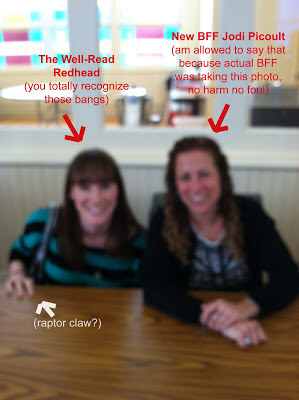 Seriously, what is up with my weird hand?
FRAME WORTHY. My phone has been adequately flogged for its transgressions.
Overall, this event made me SUPER excited to delve into
The Storyteller
, and I might just adore Jodi Picoult more than I did before. Which I did not think possible, but there it is.
Have you read The Storyteller yet? Are any of Jodi Picoult's other novels on your favorites list?