Those of you that follow me on Twitter know that I spent this past Saturday at the
Rochester Teen Book Festival
in lovely Rochester, NY. (Twitter followers know it best because I totally GOT MY LIVE-TWEET ON. Woo wooooooo!)
To say that I had a good time would be an understatement. This was my first time at this event, and I will totally be there again next year. WITH a bigger book bag. Let's recap.
I showed up around 10am for the opening ceremony. The festival was at Nazareth College, and the opener was in their big gym. It basically turned into a giant pep rally for the authors, which was pretty cool. They played a little "Truth or Talent" game, where each author had to come up to the microphone and share a truth, or a random talent. Please enjoy this photo of Jay Asher impersonating seaweed while Alethea Kontis and Amber Lough sing along:
And Joelle Charbonneau singing opera:
Also, let it be noted that at this point, I realized that the only people older than me in the audience were probably parents who brought their teens, and the authors themselves. (Even that is debatable though, there were a bunch of teen authors there...) LOL. #sorrynotsorry
After the pep rally, the breakout sessions began. It was SO HARD to choose between sessions, since there were so many good ones, but here are the four I attended with a small recap of each:
1. Laurie Halse Anderson
Irreverent, funny, outspoken. Those are the three words I wrote down after Anderson's talk. She discussed many questions that people had about her books, but more importantly, she wasn't afraid to make impassioned statements about touchy subjects like feminism, racism, alcoholism, and sexual abuse. This was a very empowering session, especially for the teens in the audience. So awesome.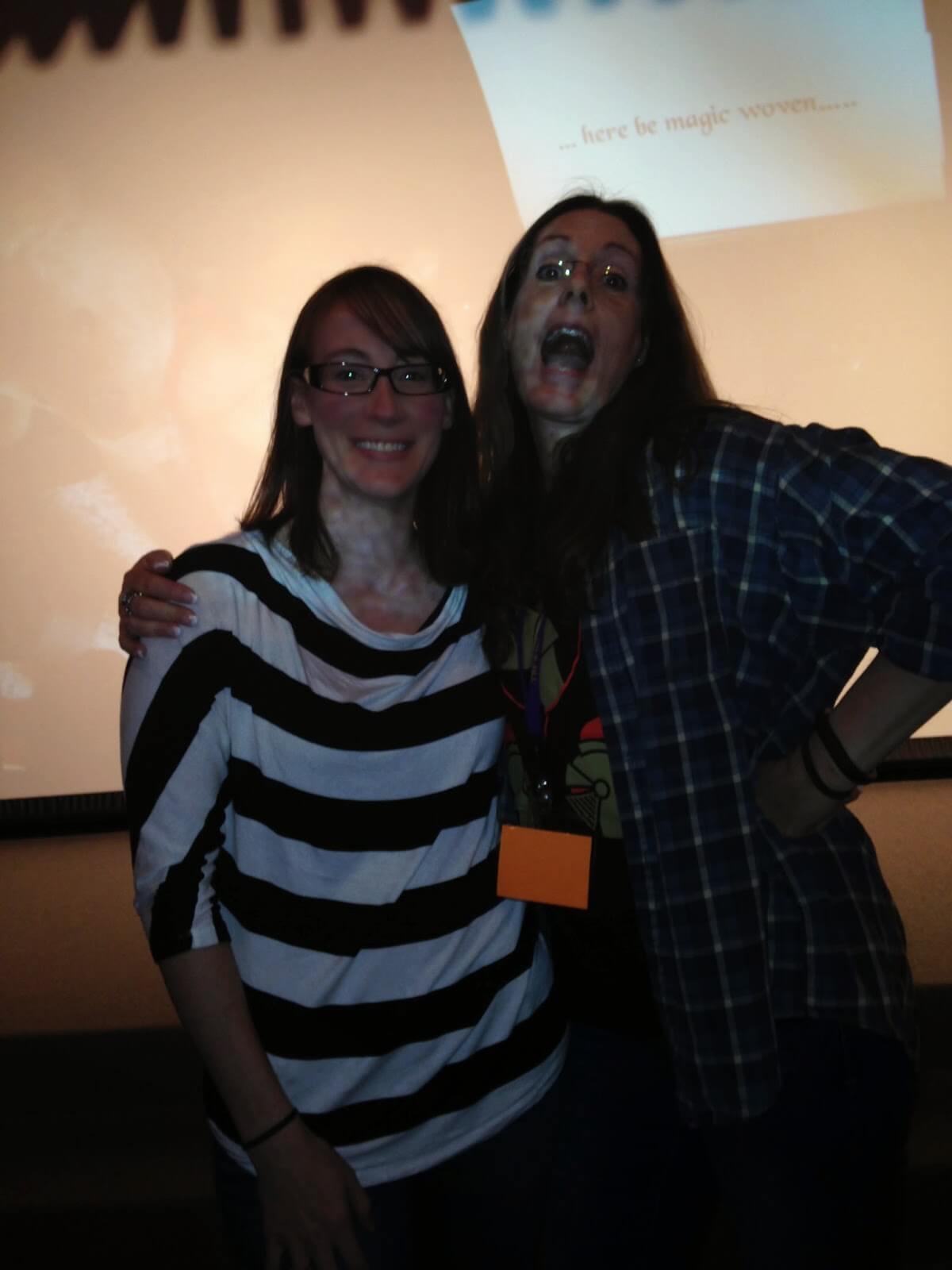 Laurie Halse Anderson and moi. Wish I knew she was making a crazy face so I could have gotten in on the action. NO FAIR, LAURIE.
*Also: at this session I met up with the illustrious Katie from
Doing Dewey
! My first time meeting a blog friend in real life! We attended a few sessions together throughout the day and had a great time connecting in person. Also, you should all know that she apologizes profusely for getting her Bout of Books post up late. I witnessed her contrition as she was trying to post it via her smartphone. LOL.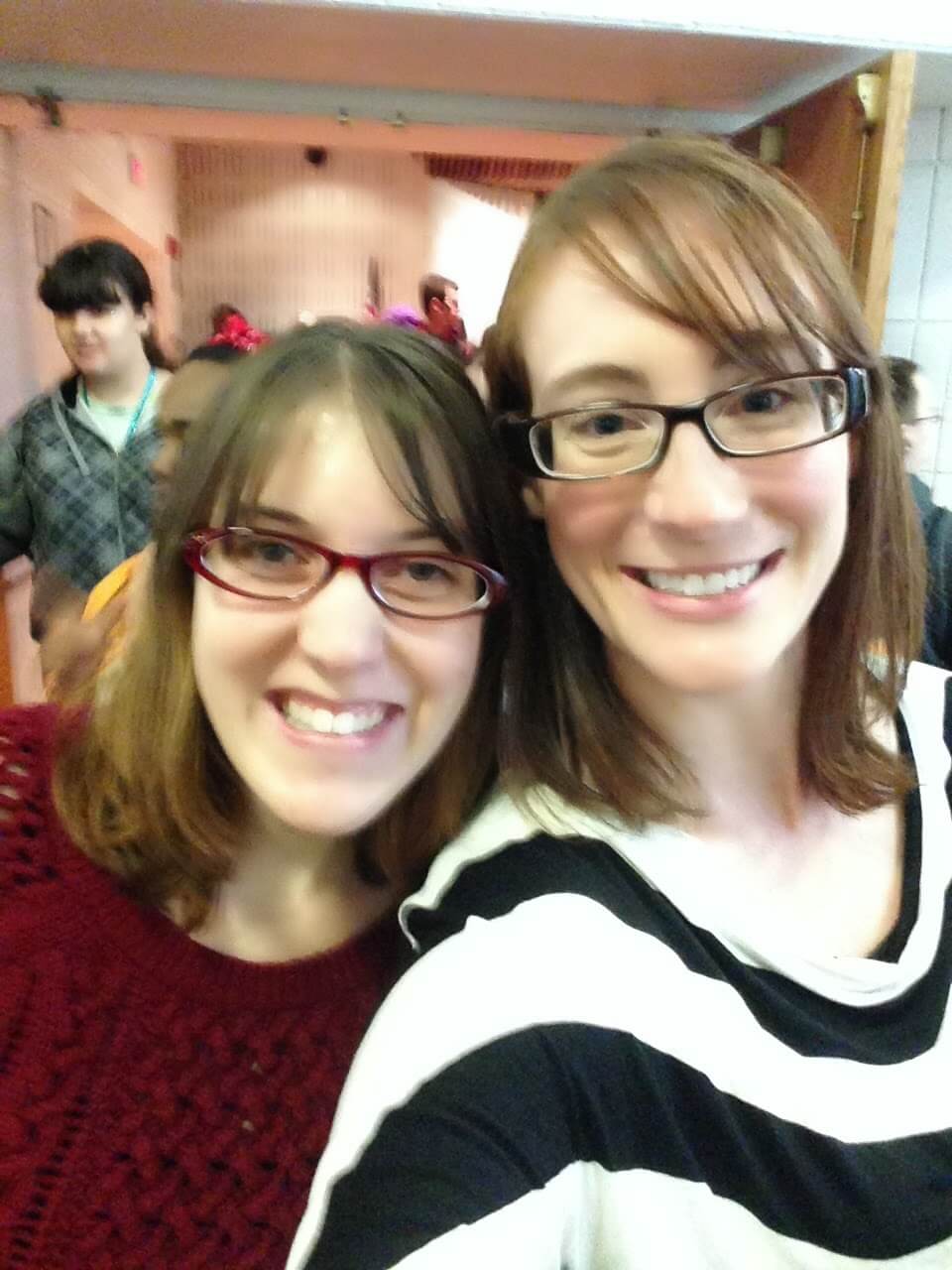 Book bloggers unite!
2. Ellen Hopkins
Another wonderful session. Hopkins started with a reading from her upcoming book,
Rumble
(excellent!), and then gave updates about her daughter (who the
Crank trilogy
is based upon). Wow, what disheartening stuff. Her daughter is in prison yet again, and pregnant with her seventh baby. She's now been battling addiction for 18 years. Hopkins has custody of her daughter's oldest son (now 17) and her three youngest children (ages 4, 5, and 10). Many have accused her of exploiting her daughter's story for her books, but Hopkins said this is not just her daughter's story--it is her story, her husband's story, her grandchildrens' story, etc. and she feels it is important to share that in order to keep young readers away from this life.
Afterwards, she asked the teens in the audience to share some concerns that they are dealing with in their own lives. I was blown away by some of the situations these kids shared. Sickness, abuse, etc...there was a lot of strength in that room. A very heavy session indeed.
3. Gina Damico
After two discussions that were pretty serious and issue-based, I needed something a little lighter. I knew Gina Damico would be just the ticket, since I loved the humor in
Croak
. Gina was friendly, funny, and down-to-earth. You can tell she's newer to the publishing world than the previous two authors I visited, and I don't mean that in a bad way. She had a more carefree attitude that I imagine was inspiring for the aspiring teen writers in the audience. She talked about her road to authorship, and then took questions about the book. Lots of laughs and overall a good session for fans of her work.
4. A.S. King and Andrew Smith
For my last sessions, I was really torn between this one, and Jay Asher's. I decided to go here because I adored King's
Ask The Passengers
, and I hadn't read anything of Smith's yet, so I figured it would open me up to some new material. I'm so glad I made this choice! Kind and Smith based their session on the idea of boxes--that is, how NOT to use them. They discussed how to avoid "boxing people in", by things like race, gender, sexuality, etc. They also argued that the same should be done for books. For example, they both expressed frustration about the fact that they've published books that have gay characters, and then those book are automatically grouped as "gay literature" when really, the main themes of those novels had little to do with sexuality. They encouraged readers to go into any book with an open mind, regardless of the genre you've been told the book falls into. Great advice for any reader! I was really impressed by their session and ended up buying Andrew Smith's
Winger
at the book sale later.
After the breakouts, it was
book signing time
! I had my big ol' bag with me, and spent the full two hours waiting in lines. In the end, this was my haul:
All of the authors I met were incredibly nice. I am very socially awkward at signings (please refer to the embarrassment of my
Dennis Lehane signing
), so I didn't say much, other than a "how are you?" and "thanks so much!". They were all very gracious though, and Laurie Halse Anderson was especially chatty (her line was AGES long as a result, but worth it!!). However, I did ask Andrew Smith for training tips for my half marathon (he's completed a whole bunch of marathons and runs every day). He seemed happy to share, saying that 13.1 miles is nothing (I suppose that's true when you run 26.2!) and that I should just enjoy the run. Points well taken. Now when I start getting tired and whiny at mile 5, I'll just imagine Andrew Smith in my mind yelling, "THIS IS NOTHING!!" (I'm sure that's exactly what he intended.)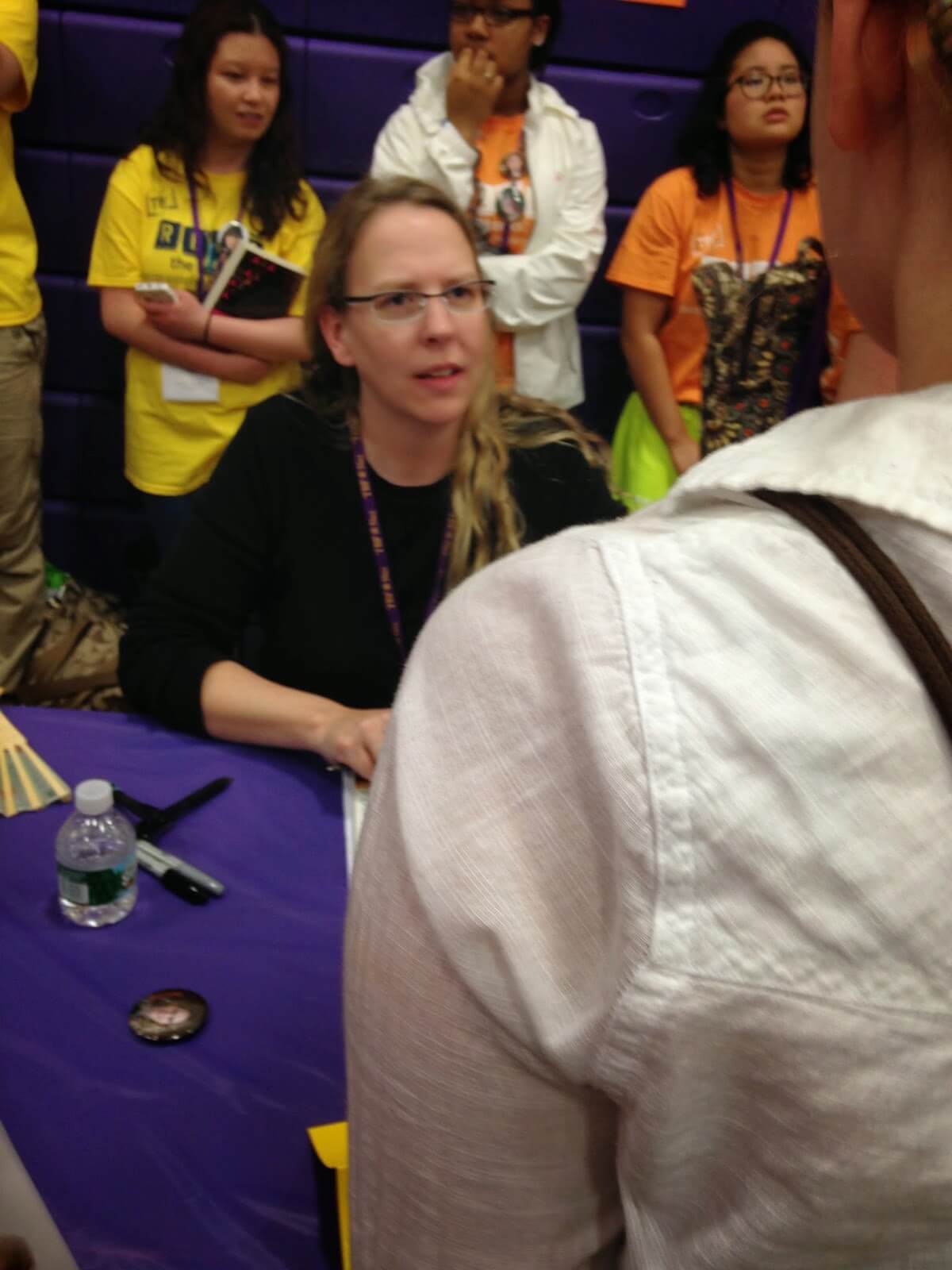 A.S. King during signings
There you have it, reader friends! My first major book event, and I loved every minute. You know what one of the best parts of the day was? Seeing all these teenagers who were TOTALLY STOKED about reading! The teens in the audience asked all the best questions during every session. I saw one girl break into tears when she met Jay Asher in person for the first time. Neal Shusterman had a pack of groupies with him every time I saw him walking between sessions. The book love was EVERYWHERE. These kids give me hope for the future of the literary world.
So, who's coming with me next year??