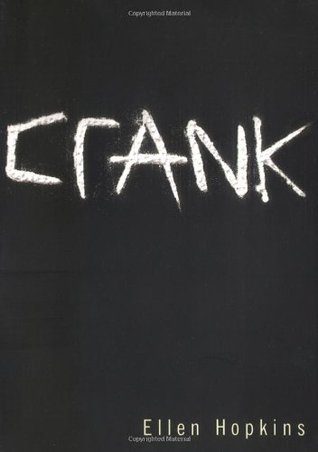 Title:
Crank
Author: Ellen Hopkins
Publisher: Simon Pulse
Publication Date: October 1, 2004
Source: personal purchase
Summary from Goodreads:
In
Crank
, Ellen Hopkins chronicles the turbulent and often disturbing relationship between Kristina, a character based on her own daughter, and the "monster," the highly addictive drug crystal meth, or "crank." Kristina is introduced to the drug while visiting her largely absent and ne'er-do-well father. While under the influence of the monster, Kristina discovers her sexy alter-ego, Bree: "there is no perfect daughter, / no gifted high school junior, / no Kristina Georgia Snow. / There is only Bree." Bree will do all the things good girl Kristina won't, including attracting the attention of dangerous boys who can provide her with a steady flow of crank.
My Review:
OK, I'm going to start with three quick, random points before I get to the actual review. First: this book is 537 pages long, and I devoured it in less than 24 hours. (Reminder: stay a home mom. Two young kids. Barely enough time to tie my own shoes most days.) IT'S THAT GOOD.
Second: this is a book about a girl who develops a meth addiction in Albuquerque. What, exactly, is the deal with meth in Albuquerque?
Breaking Bad? Anybody?
Third: you may have guessed it...this is YA, another read from an author that will be at the
Rochester Teen Book Festival
.
I was especially excited to see Ellen Hopkins on the list, because I've heard buzz about her novels for years now. However, this is the first one I've ever picked up. And now I know that the hype is justified.
Crank
is written from Kristina/Bree's perspective, in verse. At first I wasn't sure about a book that was written as a poem, but I didn't have to be worried at all--the poetry is not lyrical or rhyming, so it's not like 500+ pages of singsong-type storytelling. But the poetic structure is still essential, because it makes Kristina's story more...edgy, somehow. It illustrates her journey in a way that regular ol' prose would not. (Also explains my ability to read this in a day...short lines of verse, way easier to read than dense pages of paragraphs.) Overall I think this was an awesome structural choice by Hopkins, and it definitely makes the book stand out in a crowd.
Aside from the poetic structure,
Crank
is powerful because Kristina's downward spiral into drug-fueled hell feels so disturbingly realistic. (And sadly, that is likely because it is based on Hopkins' own daughter, who battled a terrible drug addiction for many years.) Kristina is not an underprivileged girl, a troublemaker, promiscuous. No, she is a straight-A do-gooder, no boyfriends to speak of, walking the straight and narrow. And this makes her downfall that much more horrific. It's like that saying about the traffic accident that you drive by and can't look away--that's what reading
Crank
feels like.
This book is raw, emotional, sad...and I'm already a third of the way through its sequel (
Glass
), with the third installment of the trilogy (
Fallout
) waiting on my nightstand. DEVOUR THIS.