Another busy month around these parts! Obviously my posting frequency has gone down lately, but I am happy to report that we are fully moved into our new home...PHEW!! We are still busy with unpacking the last few boxes, making endless trips to Home Depot, and wishing we had a box spring (our queen size box spring didn't fit up the stairs...therefore, I have been sleeping on a mattress on the floor for the last 3 weeks as we await our new one...fun!), but overall the move went well and I am looking forward to getting into a routine around here.
We did have lots of exciting milestones this month too. The Hubs and I celebrated our
6-year anniversary
, though it landed smack on moving day, so it was mostly celebrated by unloading boxes and sweating too much. Still, a great day: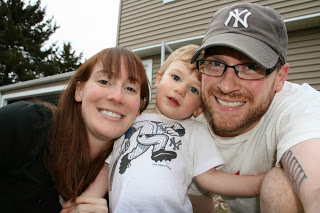 I also had my 30th birthday (
as you know
), and I hit the third trimester of this crazy pregnancy! Time is flying and I can't believe I have less than 3 months til Tater Tot arrives. EEK!! Here's an update on my growing bump for ya...this was taken when we went out to dinner for my birthday (27ish weeks), and I feel the moving boxes as background are very appropriate: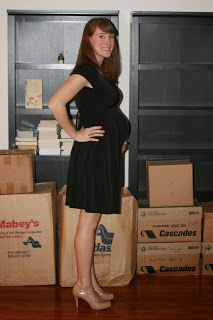 Otherwise, I have been trying to fit in all the reading I can with my new birthday gift, a Kindle Paperwhite (thanks Mom!). I am pretty much in lurve with it, madly and deeply.
Anyway, how was the reading this month?
The September 2013 Fave/Least Fave picks go to:
September 2013 Favorite: Flowers for Algernon by Daniel Keyes
September 2013 Least Favorite: Help for the Haunted by John Searles
In total, I read/reviewed 6 books:
Early Decision by Lacy Crawford
The Shining by Stephen King
Why Have Kids? by Jessica Valenti
Flowers for Algernon by Daniel Keyes
Expecting Better by Emily Oster
Help for the Haunted by John Searles
Otherwise, I celebrated my favorite books of love, and created my "30 Books to Read by 35" list (kinda) in honor of my epic birthday.
Now, on to October! Month of fall and pumpkins and PSLs and way too many apples! (Seriously, we went apple picking last weekend and I have a bushel of them, so send me all your apple recipes before I develop a fruit fly problem.) Enjoy your month, reader friends!