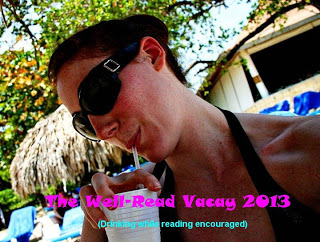 Hi, readers! As promised, today is the first guest post for
The Well-Read Vacay 2013
. And so, I will now step aside and introduce you to the lovely
Shannon from Giraffe Days!
In addition to running a fantabulous book blog, Shannon is also the brain trust behind the
Around the World in 12 Books Challenge
. So she's like a certified book traveler, y'all. Not to mention she's living in Canada and moving back to Australia this year...so she's a real life traveler too! And today she's taking you on a trip to author's homes around the world. READ ON!
~~~~~~~~~~~~~~~~~~~~~~~~~~~~~~~~~~~~~~~~~~~~~~~~~~~~~~~~~~~~~
Years ago, while on holiday in Paris for two weeks, I had the chance to visit the château de Monte Cristo, Alexandre Dumas' country house. It was built in 1848 but after two years of partying there, Dumas was forced to sell it because he'd run out of money.
It was a pretty impressive building, even though, in person, it looked a bit squished, like a large building made miniature, like a dollhouse - I think this effect was mostly due to the fact that the house was built in a little dell, with a steep hill rising above it. What made it interesting were the details, everything from the carved faces of famous people above the windows and doors (with Dumas himself above the front double doors - the man had quite the ego!) to the Moroccan room inside (it was the fashion at the time). What I really loved was the adorable writers' studio outside, though. With its own little moat and a tower housing a staircase that went nowhere, it was the place Dumas used to flee to to write, often abandoning his own lavish parties and ignoring all his guests. Amongst the brickwork are hundreds of white plaques, each bearing the title of one of his works of fiction. Like I said, he was quite pleased with himself!
I've never forgotten the exciting pleasure of seeing the home - now a museum - of one of my favourite writers. It reminded me that my sister had once given me a book called
Writers' Houses
as a gift, and it makes me think: what other authors could I visit, posthumously? I bet I could travel the world, hopping from one author to another! Though only the deceased ones: there's something definitely stalkerish and creepy about the idea of standing outside Margaret Atwood's Cabbagetown house here in Toronto, peeking through the windows!
Here's one possible itinerary:
Kenya:
I'm not sure how many African authors have had their homes turned into museums, but I can't help but think it's a bit of a western white thing to do; in Kenya you can visit Danish author
Karen Blixen's house
(otherwise known as Isak Dinesen, who wrote
Out of Africa
).
Ireland:
it's a bit of a cliche but then how many of us have done the
James Joyce walking tour
in Dublin? or visited the
James Joyce House of the Dead
?
United Kingdom:
from
Jane Austen's House Museum
in Chawton to
Elizabeth Gaskell's Manchester house
to the
Charles Dickens Museum
in London, you'll get a real dose of classic British lit. I would have to visit
Hill Top
, too, Beatrix Potter's home in the Lake District. And then there's Shakespeare, of course...
Russia:
check out
Leo Tolstoy's "Yasnaya Polyana"
(Bright Glade) home, now a museum, which he called his "inaccessible literary stronghold" - there is also the Tolstoy House Museum on Arbat Street in Moscow to see. And while you're in Moscow, stop by the
Dostoevsky House Museum
, the
Bulgakov Museum
, the
Gogol Memorial Rooms
and the
Chekov House Museum
- or his country house
Melikhovo
, also a museum. Lots of famous dead white men in Russia!
Germany:
I'd love to visit Germany, with its stunning landscapes and rich history. While there, I could check out
Goethe's Home and Goethe National Museum
.
Goethe's Home and Goethe National Museum
The Netherlands:
I'm ashamed to say I haven't yet read Anne Frank's
The Diary of a Young Girl
, but if I ever have the chance to visit this country I would visit the
museum
where she wrote her diary while hiding from the Nazis.
The Czech Republic:
I would love to visit Prague, it's one of my top-3 places to see, and while there I'd love to see the places Franz Kafka called home, starting with the house where he was born, which is
now a restaurant
.
United States:
like the UK and Europe, there are plenty to visit in this country; the question is more, how to pick and choose when you've limited time? There's
Margaret Mitchell's house
in Atlanta,
Mark Twain's house
in Connecticut, or the very picturesque
Steinbeck House
in California.
Canada:
Prince Edward Island is, of course, otherwise known as
LM Montgomery-land
, and I'm bummed that I won't be able to visit before moving back to Australia later this year. There's also the
museum home of Gabrielle Roy
and the
Margaret Laurence House
, both in Manitoba, and
Joy Kagawa's house
in Vancouver.
And here in
Toronto
, you can discretely gawk at
LM Montgomery's Swansea home
(which remains a private residence) and check out where Ernest Hemingway lived at 1599 Bathurst Street for a while during the years he worked for the
Toronto Daily Star
, even though he apparently
felt mostly contempt
for the city and Canada in general. We'll take what we can get, thanks! A great website I came across while looking these houses up is
WritersHouses.com
, full of news and interesting information as well as details about authors' houses you can visit.
Have you ever visited an author's house? What writer's house(s) would you love to visit?
(Don't forget to check out Shannon at giraffedays.com, as well as on Twitter, Facebook, and Goodreads!!)