Yes, things have been quite quiet around here for the last month. Don't fret, I'm still here! But after I
stepped back from all of my ARCs
, I decided to slow myself down (WAY down) with a chunkster I've been meaning to read for ages--
Gone With The Wind
! And it's awesome! It's also 1000+ pages, so I'm really taking my time with it. This explains my lack of reviews around here. However, it has been great to step back and lazily read one very long book, without any others pressing in with review deadlines. I haven't done that since I started the blog almost two years ago, and I think I need to do it more often! Very refreshing. I highly recommend.
In non-book news, this month was a lot of fun. Tons of outdoor time with my boys, a trip to Pennsylvania to visit my extended family, strawberry picking, Tater Tot turned 6 months old (WHAT?), and we even did a day trip to the beach. Kind of. Because growing up in New England, I'm rather a beach snob and find myself unable to really call the sand along Lake Ontario a "beach". HA.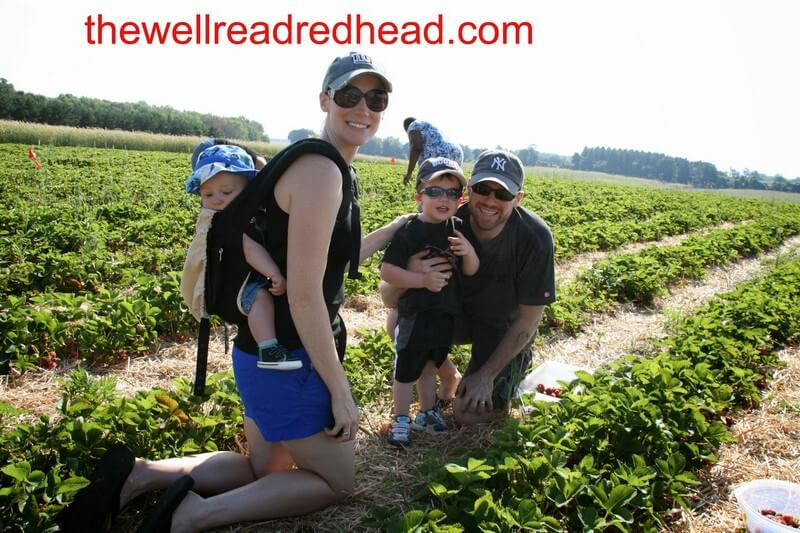 Our little crew picking "straw bee-dees" (according to Small Fry) last weekend
Also, I did start my half marathon training yesterday morning with an easy 3-miler. Today was 4 miles. I think my long run this weekend is supposed to be 5 miles, which will be the longest I've run in about 2 years. YIKES. Let the games begin!
Anyways, even though it was a light month, let's recap book activities in June...
In June I read/reviewed 4 books:
The Ocean at the End of the Lane
by Neil Gaiman
Fallout
by Ellen Hopkins
The Hollow Ground
by Natalie S. Harnett
The 3-Day Reset
by Pooja Mottl
We also discussed the
relative merits of book shaming
, which got some pretty interesting comments. Thanks for chatting with me, friends!
This month, I'm looking forward to finishing GWTW, and then moving into some suspenseful summer reads (namely
Save Yourself
by Kelly Braffett...tempting me currently from my nightstand!). Also, this is the halfway point of the year, and I'm looking rather despairingly at my
2014 TBR Challenge
. Yeah, not going well again! Guess I better get on that...
What's on your summer reading list??