Hola, runners! How many of you have heard of "virtual" races? I had never known about such a thing until I started exploring the running blog community in early 2015. For those that are clueless (as I was), a virtual race is one that you register for, get the swag/medal for...but is completed on your own time, in the location of your choice. Fun, yes? Adds a bit of spice to your normal neighborhood run. Plus, you can mix it up and run it solo, or with friends; in your usual local park, or at a new locale; on the road, on a treadmill, or on trail...the options are many.
After looking into several virtual race options, I finally decided to give one a try.
Level Up Virtual Runs
is hosting
The Incredible Virtual Run
in April. I took one look at the medal design, and was like, OMG MY KIDS ARE GOING TO BE SO JEALOUS OF ME: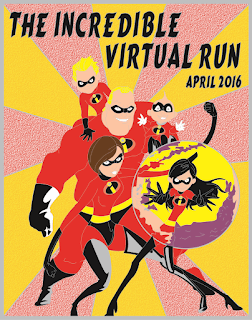 Running + Pixar = basically my life in a nutshell.
Participants choose their desired distance (5K, 10K, or half marathon) and must complete it at some time between April 15-April 30. I'll be going for the 10K option. (Yes, I am actually running the Flower City Half during this time period, so I guess I could count that and do the Incredible Virtual Run at the half distance, but it kind of feels like cheating to double count the same race! Haha.) The 10K will be good for me, because I will be doing race pace runs leading up to Flower City, so I can use the Incredible Virtual Run as a pace-pusher before my half marathon.
Yes, this requires a bit of scouts-honor accountability...but why pay for a race that you don't intend to really complete? Go have fun with it!
I'll share my experience here post-virtual-race sometime in late April. :)
Want to run with me? Registration for The Incredible Virtual Run is open until April 15th at LevelUpRuns.com. The fee is $25: already affordable, BUT my readers can save 10% off their registrations by using the coupon code SAVE10. And did I mention that all registered runners also get a $25 SLS3 gift certificate? Sweet swag. Let me know if you plan to join! (And if not, have you ever done a virtual race before? How did it go??)
(Disclaimer: I received a free race entry to the Incredible Virtual Run in exchange for this post--but all the excitement involved is mine-o-mine! :) )