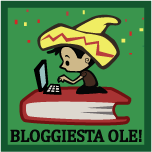 In the few weeks that I've been book blogging, I have been insanely impressed by the excitement and enthusiasm of the book blog community. I knew that fellow bloggers were out there, but I had no idea how many great opportunities there were for me to engage with them!
I just found out about Bloggiesta, a weekend-long book blogger event that focuses on bringing bloggers together to encourage each other to spruce up their blog spaces and share new ideas. Being new to the scene, I think this sounds like a great opportunity to expand my lil site, and also meet some of my blogging compadres.
So, I'm signing up today! It runs from Sept 28-30. Check out the info over at
There's A Book
to find out more and get registered!