Hello, bloggy friends! Just a little FYI that I (finally) started an Instagram account for my blog! Follow me
@thewellreadredhead
for all things reading, running, and random.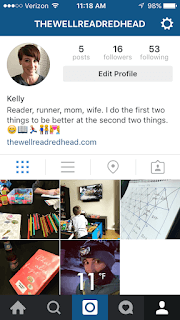 I know a few of you follow me on my personal Instagram already, but I wanted to start a separate one just for blog-related topics...because you know, sometimes my friends probably get tired of pictures of my library books and post-run selfies. :)
I use Instagram a LOT, so even if I'm not super active here, I'm sure you'll see me all up on the Insta.
Happy Valentine's Day, loves!