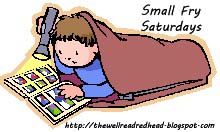 It's time for installment #8 of
Small Fry Saturdays!
This is where I do a weekly showcase of books that my Small Fry is currently reading. Feel free to do a SFS post on your blog (with the graphic above) or leave a comment below about your favorite kiddie reads.
Llama Llama Red Pajama by Anna Dewdney
The Llama Llama books were not around when I was a kid, but I think anyone born after 2005 or so is going to remember them the way I remember books like
Where's Spot?
and
The Very Hungry Caterpillar:
childhood classics!
I know a lot of people have heard of
Llama Llama Red Pajama
already, but I have to highlight it this week, because lately it's pretty much the only thing I've read to Small Fry before bed each night. And I don't even mind, because this book (and the others in the Llama Llama series) are so entertaining. If you've never read it, Baby Llama is tucked into bed by his Mama Llama. Mama Llama goes downstairs to do her mom thing--wash dishes, and talk on the phone (Dewdney responsibly left out the part about drinking wine).
Meanwhile, Baby Llama decides he's thirsty, and starts calling for his mom. But she's not coming. And Baby Llama throws down some DRAMA. I mean, look at the face on that cover--that kid is freakin'. His pouts and stomps throughout the book are hilarious, and as Small Fry's narrator, I have a good time playing up the dramatics as the story goes on. Plus, it ends with Baby Llama going back to sleep, so it's a good bedtime choice for kids.
So far, the only other Llama Llama book we own is
Llama Llama Misses Mama
, but I'm looking forward to getting some of the other ones for Small Fry soon too. Might be the perfect time of year for
Llama Llama Holiday Drama
...
Have your kids read the Llama Llama books? Which one is their fave?