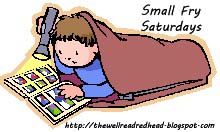 It's time for installment #5 of
Small Fry Saturdays!
This is where I do a weekly showcase of books that my Small Fry is currently reading. Feel free to do a SFS post on your blog (with the graphic above) or leave a comment below about your favorite kiddie reads.
Peekaboo Kisses by Barney Saltzberg
Peekaboo Kisses
is a short read, but Small Fry is diggin' any book with moving parts these days. I mentioned lift-the-flaps last week, and this week we have a touch-and-feel, with different textures and sounds for kids to explore within the pages.
The book has a simple concept. On each page, it starts with "Peekaboo! I see..." and then you lift the page to reveal "fluffy kitten kisses" (with fur to touch) or "squeaky mouse kisses" (with squeaker to press), etc. An older child would get bored with this book pretty quickly, but it's a good selection for the smaller small fries, as it keeps their hands busy and teaches them different animal names at the same time.
Small Fry has several touch-and-feel books, but I like this one because you can see the anticipation build for him every time you turn the page and say "Peekaboo!" Plus, it's really cute watching him lean over to eagerly touch/press each page.
What are your favorite touch-and-feel books for kids?