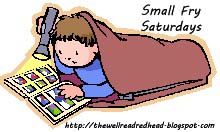 It's time for installment #16 of
Small Fry Saturdays!
This is a when-I-feel-like-it meme to showcase some of books that my 20-month-old Small Fry is currently reading. Feel free to do a SFS post on your blog (with the graphic above) or leave a comment below about your favorite kiddie reads.
Chicka Chicka Boom Boom by Bill Martin Jr. and John Archambault
(illustrations by Lois Ehlert)
If you've become a parent within the last 12 years, I'm sure you've heard of
Chicka Chicka Boom Boom
, but I have to review it anyway because it's a BIG HIT in our house right now.
Chicka
was not around when I was a kid, but apparently it's blown up hard since its 2000 release. For those unfamiliar, this is an alphabet story. Basically, the lower-case letter "a" is throwing his weight around, daring the other letters to chase him up the coconut tree. So they all go up there, and just as slowpoke "z" arrives at the top, the whole darn tree falls over. The upper-case letters come to rescue the poor, beat-up lower-case letters, and at the end, (
Chicka Chicka
spoilers y'all!) "a" dares everybody to do it again (does he learn nothing?).
I have been reading Small Fry this book since he was itty-bitty, mostly because the rhythm of the story is catchy and easily got his attention. The illustrations are bright and fun for young eyes as well. However, now I love it because he's actually starting to pick out some of the letters, and it's an excellent book for letter recognition. He's also chiming in for the parts of the story he remembers (his favorite: when the tree falls down and he gets to yell, "OH NO!"...haha). A definite advantage to the singsong melody of the book.
Chicka
is a modern classic for sure. There's also
Chicka Chicka 123
, which we haven't checked out yet, but I plan to soon!
What are your favorite alphabet books for kids?