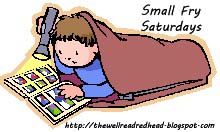 It's time for installment #18 of
Small Fry Saturdays!
This is a when-I-feel-like-it meme to showcase some of books that my 22-month-old Small Fry is currently reading. Feel free to do a SFS post on your blog (with the graphic above) or leave a comment below about your favorite kiddie reads.
Does A Kangaroo Have A Mother, Too? by Eric Carle
This post is kind of a week late, I suppose, but I'll tell you why. Each night before bed, we let Small Fry pick 2 books for us to read aloud to him. The night before Mother's Day, he chose this one for the first time ever, and all this week it's been his constant favorite. HOW CUTE IS THAT. Right on time for Mom's Day. However, too late to be last week's Small Fry Saturday post, thus I'm featuring it this week instead.
I am familiar with the well-known Eric Carle books (
Very Hungry Caterpillar
, etc.) but when Small Fry was born, my eyes were opened to the vast library of other books that he's done as well.
Does A Kangaroo Have A Mother, Too?
is one of those. I'd never heard of it until last year, but it's a cute book with a simple concept. Each page asks "Does a ________ have a mother, too?" (different animal on each page). And the answer is always, "Yes, of course they do!" before moving on to the next animal. This gets very repetitive for the adult reading aloud, but at his age, Small Fry loves it. Every time I turn the page, he yells, "YES!" because he knows that this animal does, in fact, have a mother too.
The illustrations are in the typical fun Eric Carle style, very eye-catching. This is a great one for younger kiddos that will enjoy the repetition on each page...as well as any young animal lovers that you have in the house.
What's your favorite Eric Carle book?