I don't normally take part in the "stack your shelf" or "mailbox Monday" posts, because sharing book hauls isn't my usual cup of tea. But thanks to some lovely gift cards this Christmas, I raided Amazon and Barnes and Noble this week, and I had to share the spoils!
Generally, when I use gift cards, I try very hard to stick with bargain-priced and marked-down books, because I figure I can always borrow the full-price hardcovers from the library (or wait until they go on sale). I'm not impatient enough with book releases to spend the $$ on new arrivals. So I'm fairly proud of the amount of books I was able to get with just two $50 gift cards!
First up, my Amazon haul for my Kindle: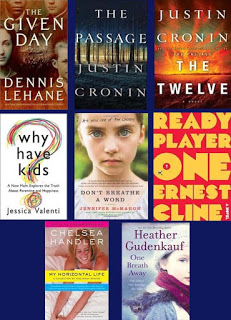 The Given Day
by Dennis Lehane
The Passage
by Justin Cronin
The Twelve
by Justin Cronin
Why Have Kids?
by Jessica Valenti
Don't Breathe A Word
by Jennifer McMahon
Ready Player One
by Ernest Cline
My Horizontal Life
by Chelsea Handler
One Breath Away
by Heather Gudenkauf
Amazon doesn't let you search by price (BOOOOO), so I never do as well there as I do at B+N.
Here's my B+N haul (shipping this week!):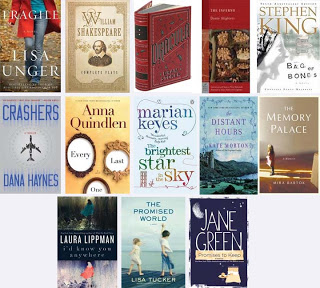 Fragile
by Lisa Unger
William Shakespeare: Complete Plays
Dracula
by Bram Stoker (with a very cool cover design)
The Inferno
by Dante
Bag of Bones
by Stephen King
Crashers
by Dana Haynes
Every Last One
by Anna Quindlen
The Brightest Star In The Sky
by Marian Keyes
The Distant Hours
by Kate Morton
The Memory Palace
by Mira Bartok
I'd Know You Anywhere
by Laura Lippman
The Promised World
by Lisa Tucker
Promises to Keep
by Jane Green
I also received one book as a gift from my husband:
July 7th
by Jill McCorkle.
July 7th is my son's birthday, so my husband snagged me a copy when he found it online!
What are your book shopping strategies? Did you receive any good reads this holiday season?