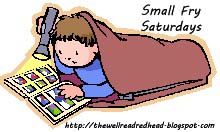 It's time for installment #7 of
Small Fry Saturdays!
This is where I do a weekly showcase of books that my Small Fry is currently reading. Feel free to do a SFS post on your blog (with the graphic above) or leave a comment below about your favorite kiddie reads.
I'm A T.Rex! by Dennis Shealy
(illustrated by Brian Biggs)
Great minds think alike, so when both my mom and my mother-in-law bought this book for Small Fry, I knew it must be a good one.
I'm A T.Rex!
is a relatively new (published 2010) part of the Little Golden Book series that most of us remember from childhood.
The book is perfect for making funny voices and sounds (as the T.Rex roars, stomps, and growls his way through the pages). But it's actually educational as well ("I lived in a time called Cretaceous--good gracious!"). The book teaches kids all about the tall, toothy, and terrible T.Rex. The illustrations are just like the cover--colorful and a bit goofy (no Jurassic Park-type dinosaurs here).
For now, Small Fry is mostly entertained by the loud and funny way we read this book, but as he gets older, I can see him having fun with it as he learns more about the dinosaurs and tries to pronounce all their crazy names.
What are your favorite Little Golden Books for kids?