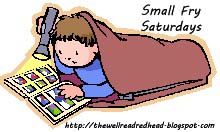 It's time for installment #10 of
Small Fry Saturdays!
This is where I do a weekly showcase of books that my Small Fry is currently reading. Feel free to do a SFS post on your blog (with the graphic above) or leave a comment below about your favorite kiddie reads.
Santa Claus The World's Number One Toy Expert, by Marla Frazee
Another fun Christmas book for you this morning! This was another one that Small Fry and I unearthed at the library recently. Let me tell you, the kid's Christmas books section at the library is cutthroat these days--everything is on 7-day loan, and parents are pushing each other out of the way to nab the best ones. Okay, maybe not that bad, but it's pretty cray-cray.
Anyways, this book is awesome for kids and adults alike. It teaches kids about the painstaking work Santa does to research all the best toys, and keep tabs on all the kiddos, so that he can give everyone the very best presents possible (including himself!). Small fries will love hearing the story, but adults will get a chuckle too, as the illustrations have all sorts of hilarious little details. (Ex: Santa sitting at his desk surrounded by sticky notes...hello, that is my entire life at work ON THE DAILY.)
The drawings in the book are seemingly simple, but hold more detail the longer you look them over. And I love how the author used a lot white space on the page, allowing the words to flow over and around the illustrations in a playful way. Overall, this is a fun, spirited Christmas book that will make kids excited to see what Santa chose for them this year!
What Christmas books are you enjoying this holiday season?