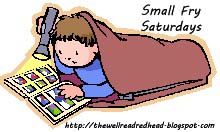 It's time for installment #9 of
Small Fry Saturdays!
This is where I do a weekly showcase of books that my Small Fry is currently reading. Feel free to do a SFS post on your blog (with the graphic above) or leave a comment below about your favorite kiddie reads.
Merry Christmas, Ollie! by Olivier Dunrea
For the rest of this month, I will be highlighting CHRISTMAS BOOKS!! Small Fry and I went to the local library last week, and took out a few holiday books to help us celebrate the season. I tried to grab books that I hadn't seen before, because Small Fry loves new reading material, and I like to branch out beyond the more popular kid's books.
Merry Christmas, Ollie!
is an adorable book about Ollie the gosling. Ollie and his 4 gosling friends (Gossie, Gertie, BooBoo, and Peedie) are anxiously waiting for Christmas, and the arrival of Father Christmas Goose. But Ollie is especially impatient! While the other goslings hang their stockings and wait quietly, Ollie stomps around, because he wants Christmas NOW! The other goslings try to help him stay patient as they wait for the big day to arrive.
This book captures the impatience that little kids feel when they know Christmas (and Santa) are just around the corner! It's a short book, so a good one for your smallest small fries. And the illustrations are what got me the most--remember how much I adored
Duck and Goose
? The goslings in this book remind me of them, with their adorable big beaks and winter hats. Love it. I didn't realize it when we took it out, but this book is part of the Gossie & Friends series, also by Dunrea. I will be checking them out for sure!
What Christmas books are you enjoying this holiday season?