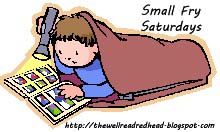 It's time for installment #15 of
Small Fry Saturdays!
This is a whenever-I-feel-like-it meme to showcase books that my Small Fry is currently reading. Feel free to do a SFS post on your blog (with the graphic above) or leave a comment below about your favorite kiddie reads.
The Good Night Our World series, published by Our World of Books
I first noticed this series of books when I was at a Hallmark store in Connecticut, visiting my parents. My mom and I were out shopping alone, and while splurging on a new Vera Bradley bag for my birthday, I saw the book
Good Night Connecticut
at the sales counter. I immediately fell in love and had to pick up a copy for Small Fry.
While the title implies similarities to the classic
Goodnight Moon
, the content is actually modeled quite differently. Each book in this series brings you through a day in the title location: so at the beginning, it will start with "Good morning ______" and move through various spots in the given state/locale until the end, when you finally say good night.
Why do I love the series so much? Because it's really cute to read a book to your kid that's specific to your area! The Connecticut book makes stops at UConn (yes!), Mystic Aquarium, the Mark Twain house, Essex Steam Train...ah, the memories. Even though we live in New York now, Small Fry will know many of these places as he gets older because my parents still live in my hometown. Plus, Connecticut is a small enough state that one book easily sums up all of the major attractions...ha. (I guess I need to get my hands on
Good Night New York State
as well.)
It looks like nearly every state has a
Good Night Our World
book now (check out Amazon/B+N to search for yours). There are also more general ones, like
Good Night Farm
and
Good Night Ocean
(another one that we have and enjoy at home).
Do you have any favorite kid's books that are set in your home town/state?