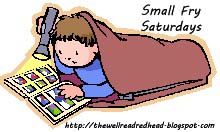 This installment of Small Fry Saturday calls for a seasonal read. My Small Fry has been carrying this book around the house with him all week!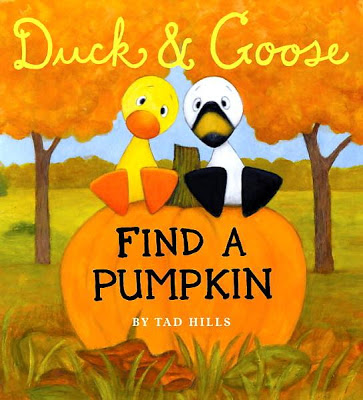 Duck & Goose Find A Pumpkin by Tad Hills
I found this book on sale at B+N after last Christmas, and I figured I would buy it and stockpile it for the next time fall came around. Now, Small Fry is at a stage where he's paying more attention to his books, and this one has been a lot of fun for pumpkin-picking time! Duck & Goose actually have a whole series of books that follow their adventures, and we like this one so much that I'm sure we'll be seeking out more. In this one, Duck and Goose see their friend Thistle walk by with a pumpkin, and they set out on a search to find one of their own.
This one immediately got a thumbs-up from me because Duck and Goose are freaking adorable. I mean, LOOK at the cover. Too cute. But the rest of the illustrations are great too. The book itself is not long, but Small Fry likes it because it's got a nice rhythm ("Is our pumpkin up in the apple tree Goose? No! Is our pumpkin under the water Duck? No!" etc). I like how it teaches different action and place words (over vs under, up vs down, etc). Definitely a good book for the younger kiddos.
This is a short, cute read, and perfect for the season.
Have you read any Duck & Goose books? Do you have any other fall favorites for kids?