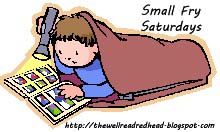 It's time for installment #3 of Small Fry Saturdays! This is where I do a weekly showcase of books that my Small Fry is currently reading. Feel free to do a SFS post on your blog (with the graphic above) or leave a comment below about your favorite kiddie reads.
Underpants, Thunderpants! by Peter Bently
(illustrated by Deborah Melmon)
A couple of weeks ago, we headed over to Barnes and Noble with a gift card that had just a few dollars left on it. And what can you buy with just a few bucks at B+N? KID BOOKS! Hubs, Small Fry, and I browsed the racks, until we came upon
Underpants, Thunderpants
. Hubs and I started cracking up at the title, so we had to go for it. Small Fry seemed to readily agree, as he refused to let go of the book once we handed it to him (inciting a small meltdown when the cashier had to scan it). What can I say, the kid is passionate about literature.
The first read in the car on the way home revealed a cute and colorful work of children's lit. Poor Dog leaves his underpants on the clothesline to dry, but a storm comes in and makes them fly all over the world! They end up in forests and oceans and everywhere in between, with some animals that put the undies to hilarious uses.
The rhyming and silly adventures in this book are great. As Small Fry gets older, I can tell this is going to be a book that he will giggle his way through. And the illustrations are awesome--very bright and visually stimulating for the young ones. As an adult, my one qualm is that we never find out what happens to Dog!! Does he get the darn underwear back? Does he just go to Target and hit up the next Hanes sale? I NEED TO KNOW. Good thing Small Fry is too young to understand the meaning of a cliffhanger ending yet.
What are your favorite silly kids' books?