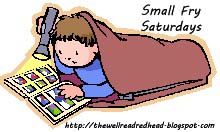 It's time for installment #4 of
Small Fry Saturdays!
This is where I do a weekly showcase of books that my Small Fry is currently reading. Feel free to do a SFS post on your blog (with the graphic above) or leave a comment below about your favorite kiddie reads.
Dear Zoo by Rod Campbell
This is Small Fry's favorite of the week. If we try to pick up another book and read it before bedtime, he squirms and whines until
Dear Zoo
appears instead. So
Dear Zoo
it is!
Some of you might remember this book from your own childhoods (it was originally published in 1982). Probably the biggest draw to it is the lift-the-flap pages. At nearly 16 months old, Small Fry is at an age where he appreciates books with moving parts and hidden pictures. In
Dear Zoo
, a child writes to the zoo asking them to send him a pet. On each page, they send him a new animal (which you lift the flap to uncover), but he then sends it back (because it's too big, or too fierce, or too naughty, etc) until he gets one that is just perfect.
Let's ignore the fact that this child seems pretty ungrateful (can you imagine how much the zoo had to pay in shipping costs for that freakin' elephant?). It's a very fun book, great for teaching kids different animal names (and sounds, if you're an animated storyteller). And of course, the flaps are key for entertainment value. I think we might be stuck on this one for a while!
What are your favorite lift-the-flap books for kids?