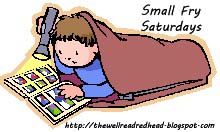 It's time for installment #6 of
Small Fry Saturdays!
This is where I do a weekly showcase of books that my Small Fry is currently reading. Feel free to do a SFS post on your blog (with the graphic above) or leave a comment below about your favorite kiddie reads.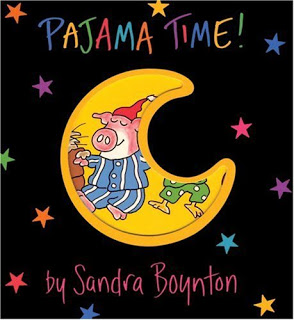 Pajama Time by Sandra Boynton
One of our neighbors gifted us a copy of
Pajama Time
when I was still pregnant. She said that her daughter adored the book, and she wanted to pass a copy on for us as a result. I had never read a Sandra Boynton book, but I quickly realized how fun they are!
Pajama Time
is a bedtime book that will make your kids want to dance before getting into bed (okay, hear me out). The characters in the book start putting on their PJs of all different kinds--fuzzy, striped, polka-dot, you name it. Then they dance their way into bed. The Pajama Time song is hilarious to sing ("Jamma jamma jamma jamma P! J!"). Hubs thinks it's kind of weird, but I get REALLY into it. And Small Fry seems quite entertained by this theatrical show before sleepy time.
The illustrations are bright and cheery, and the book does conclude on a more hushed note--perfect for saying "the end" and shutting out the light. This pick made me curious about Boynton's other books, which I've found are equally as funny and well-illustrated.
Your Personal Penguin
is a recent one that we've added to the collection--will be showing up in a future Small Fry Saturday post for sure!
What are your favorite bedtime books for kids?