Hola, readers! Just a quick post today (in between baby feeding/diapering/cuddling) to declare myself for the
2014 Mount TBR reading challenge
!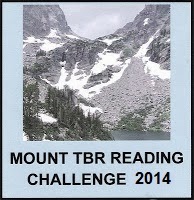 As I mentioned previously
, I tried this challenge in 2013 but failed miserably. However, this time it will be the only challenge I'm doing, and I hope that will help me focus on it a bit more.
I am trying for the Mont Blanc level: at least 24 books off my TBR for the year.
So, here's hoping 2014 is a better TBR year than 2013!