Hello bloggy friends! Well, you can never say that I'm not good at scheduling posts, seeing as how the last three you've read here were all, obviously, scheduled before this major life event occurred...
That's right, darling Tater Tot decided to make his grand entrance into the world last Wednesday, December 11 at 6:01pm. Momma here was only 38 weeks and 1 day pregnant, so it was certainly unexpected (seeing as how Small Fry stuck around for 40 weeks and 6 days...). :)
Lil' Tater was a healthy 7lbs 12oz, 20.5 inches long, and super super adorable (which clearly goes without saying):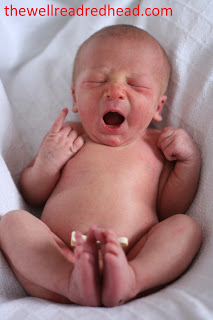 It's been a whirlwind of a week, but we have fallen in love with our new little guy and it's been great settling in as a family of four!
As mentioned previously, posting may be scarce here for a wee bit (though these 3am feedings really are helped along by my Kindle). But I promise I am not completely disappearing. I will have more booky goodness for you very soon!! MUAH!