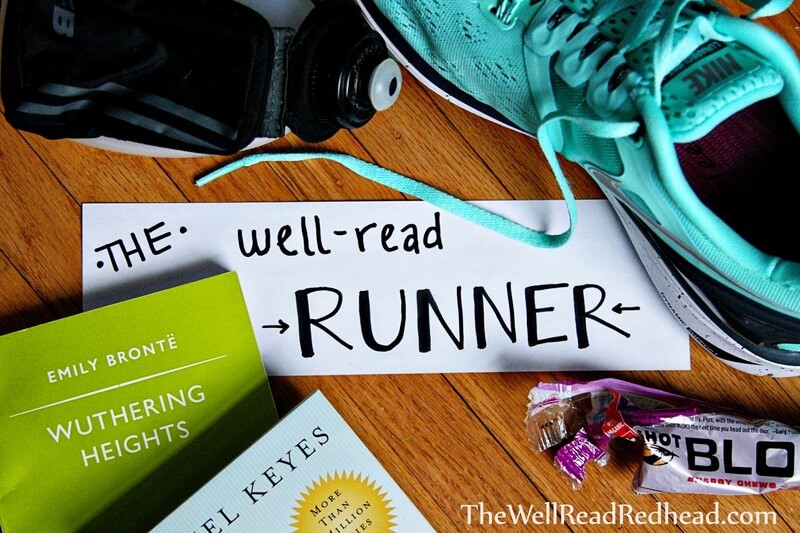 Week 5 of training for the
Mystic Half Marathon
is complete...and it was a doozy!
Total distance for the week:
21.33 miles
I mentioned at the end of last week that I got a cold and was having a bit of a rough go. I thought it was nearly kicked by last Sunday, but I was most certainly wrong. The Cold From Hell stayed with me all this week, and made working out a major struggle.
Was it a head cold or a chest cold? I couldn't really tell. Should I stop running entirely until I was 100% better, or just rearrange the week and go easy on myself without skipping workouts? I ended up doing the latter, and while I'm glad I was able to get all of my miles in, I was left with a week of running that basically kicked my confidence down the stairs.
Monday: Rest.
Today was supposed to be a stretch/strength day, but I took it off completely for some extra recovery time--MUCH needed. My core training for the day consisted of non-stop coughing.
Tuesday: 4 miles, easy pace.
This run sucked all the way around. I felt good early in the day, so I thought I'd be fine for a late afternoon run. Unfortunately my chest congestion came back, and I ended up running slower than usual (9:59 avg), started coughing on the last half mile, and just overall did not enjoy being out there. Blah.

Wednesday: 3 miles, easy pace.
This was supposed to be speedwork day, but no way I was trying that yet. I did Thursday's workout instead. I thought I felt up to it beforehand, but yet again was left with a disappointing run that I struggled through, mentally and physically (10:06 pace this time). The one saving grace was that I did it on the treadmill, so I didn't get as much coughing afterwards from cold outdoor air.
I know I was only a few days into the week, but by the end of this run, I was really stomping myself mentally.
How am I going to PR a half marathon if I can't even run 3 miles with confidence? When was the last time I jumped above 10 minute miles on a 3 mile distance?
Thoughts like this plagued me all day. It sucked.
Thursday: Rest.
I took Friday's rest day and moved it to today, in the hopes of finally kicking this thing.
Friday: 7 x 400 intervals.
By Thursday night, I really was finally feeling quite a bit better. I told myself I was going to get up Friday morning and just kill it. I even left myself this really super positive note taped to my treadmill:
Edited the language for delicate eyes. Aren't I just so nice to myself?
You can also see my hash marks for counting my intervals. It's hard to keep track of 7 intervals at 5:30am.
This was not my most amazing speed workout, but I got it done. I did okay for the first 3 intervals, but during interval 4, I really and truly thought I was going to puke. I usually do a slow jog between intervals, but after #4 I brought it down to a walk, and considered giving up the last three. However, I decided to give them a go (with walks between intervals instead of jogs)...as you can see, I wasn't able to push myself very hard for the last three sprints, but I got them done:
(I did a walking cooldown at the end, but turned of my Nike+ as soon as the last interval was over)
This is one of those workouts that I'm not sure if I should have just skipped it for the week, or if it was good that I pushed through it (even if I wasn't at optimal condition). But either way, it's done.
Saturday: 8 mile long run.
Friday afternoon, I found out that we were leaving for my in-laws for the weekend on Saturday morning. Normally, my long run is Sunday, but my in-laws live in a super not-runner-friendly area (very high speed limits, almost no shoulder on the road, lots of blind turns, etc). Plus, it's very rural, so running in the early-morning dark would have been really creepy for me. The thought of trying to do 8 miles there was painful. So I decided to cap off this not-great week of training with an 8 mile long run at 5am before we left for the trip.
Surprisingly--it went okay. It was slow (10:22 avg pace) but a long run can't be too slow, right? I went easy on myself and felt pretty good by the end. My cold was FINALLY feeling nearly gone by this morning, so this was a better 8 miles than I was expecting. Huzzah!
Sunday: 3 miles easy pace.
This was supposed to be Saturday's workout, so I did it when we got home from my in-laws instead. I was feeling 100% better by this point, and told myself that I needed a run to help me get my confidence back--even if it meant I went a little faster than "easy". I ended up with a 9:21 average pace, and that was with 3 pretty decent hills mixed in. I was tired when I got home, but I felt GREAT. I'm glad I pushed it a bit. I think I needed a run solidly below the 10 minute pace mark to make me feel (mentally more than physically) like I was getting back on track.
Lessons learned this week:
1. I probably need to give myself an extra rest day or two when I get sick, instead of pushing myself too hard.
2. I have some work to do on my mental game--a few sub-optimal days during illness shouldn't be able to completely derail my confidence in my running abilities.
Let's hope that Week 6 brings a turnaround, both mentally and physically!
How was your running week, friends?

Do you tend to (mentally) beat yourself up pretty easily, or do you have a bit more mental fortitude than I??
What are your tips for keeping up confidence during a rough training week?