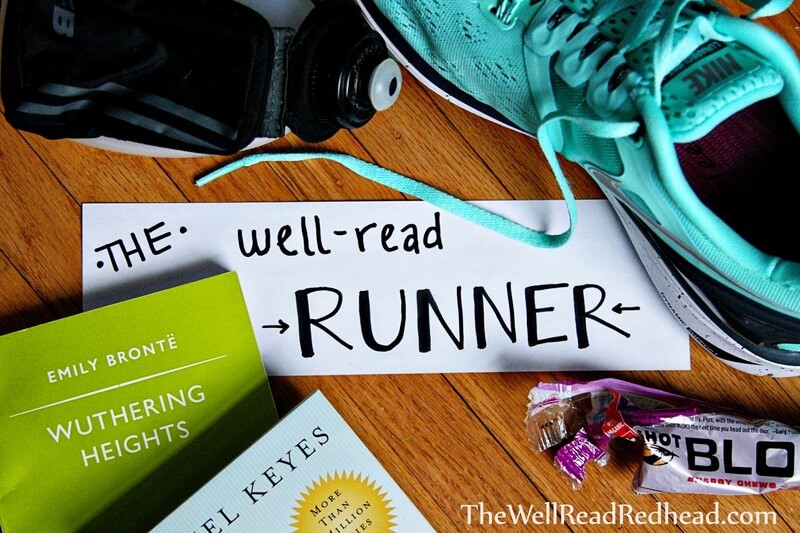 Happy Easter, friends! Week 4 of training for the
Mystic Half Marathon
is donesies!
Total distance for the week:
20.19 miles
I'm pretty new to the world of running blogs (I just started following a few when I started this weekly feature 4 weeks ago), but one thing I've noticed is the large number of runners who consistently run with a partner (or partners). As you may have noticed, I am not one of those people. 99.9% of my runs are done solo.
My friend Mandy will tell you that I almost have a phobia of running with others (in a non-race situation). It's kind of a joke between us now. When she first realized that I run, she offered to meet up with me for runs tons of times. I gave excuses every time, until I finally 'fessed up that I just feel better running alone. I can think of a few reasons for this:
1) I am kind of a late bloomer to running (didn't start until I was 22, and even then I didn't get "serious" about it until I was closer to 27-28) and before that point, I was never under the impression that I was any good at it. I had a friend in high school who was a bit of a track star, and he happened to be at the track one day when I was making a halfhearted attempt to start running before I left for college. He made a lot of probably-well-intentioned-but-not-well-received remarks about my awkward running form...aaaaand that was the last time I ran in public for a good 3 years. I've obviously improved since then, but there's a lot of self consciousness there.
2) I am always afraid that running with others will cause me to a) have to slow way down in order to keep their pace or b) slow down the other runner because they are faster than me (the more likely scenario). Again, this is based on personal experience, as I went running with 2 friends once in college who I could tell about 5 minutes into the run were completely annoyed with my slow pace. And again, it was the last time I ran in public for quite a long time. Even though a lot of time has gone by since then, I just don't want to have to worry about matching my pace so much during runs.
(Reading this back to myself, I am realizing I have an awful lot of confidence issues with running! Maybe I'll talk more about that next week...)
Anyway, nowadays I have gotten better at running, but I also have the added factor of time: running with others would require me to meet up with them somewhere to run, and 9 times out of 10, I am bolting out my front door to do my runs in the neighborhood in the tiny amount of time that I have available...no commute required. However, I have reached a point where I would love running with others if I could. I think it would push me a little with my pace, and also give some nice conversation to these long runs! We shall see. Mandy is currently 26-ish weeks pregnant, so I'd have to find some others willing to come along. :)
Anyway, on to my workouts!:
Monday: Stretch and strengthen.
I didn't get to do quite as much as usual, because my husband was out of town all day (successfully defending his doctoral dissertation proposal, woohoo!), so I had to do my workout quickly, after Tater Tot and gone to bed and Small Fry was watching some cartoons on my phone. I laid on the floor to do some crunches and he joined me: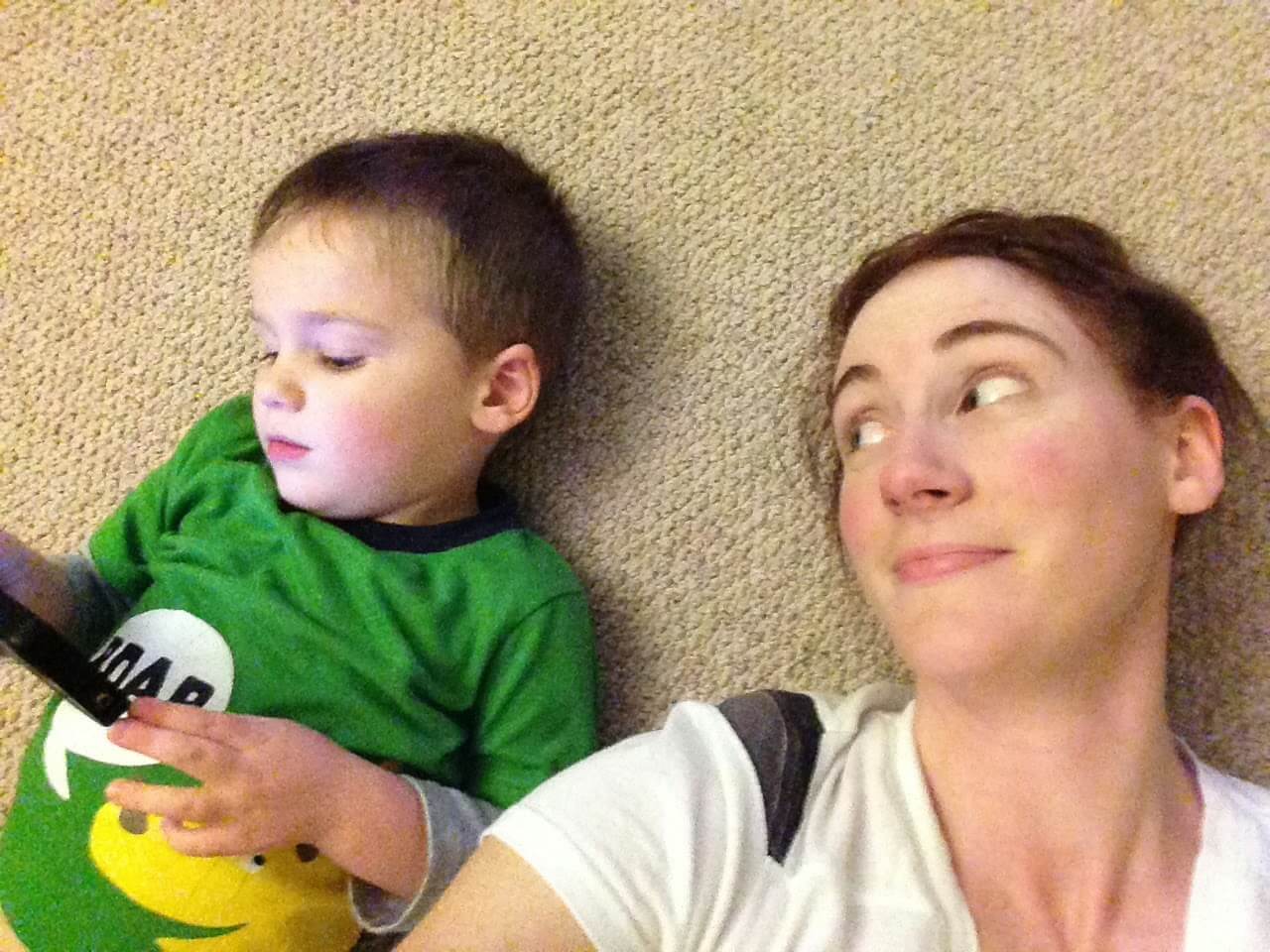 I did get my usual planks, push ups, squats, etc. in, just no Jillian Michaels like I usually try for.
Tuesday: 3.5 miles, easy pace.
9:34 pace outside in the evening, felt great! Nothing too remarkable to report.

Wednesday: 35 minute tempo run.
On the treadmill. I learned during my last tempo run that I was better off doing all speed work (not just intervals) on the treadmill, much as I dread it. My pace is too hard to consistently control when I'm outside--the treadmill keeps me on track. This was a tough workout for sure! I built gradually up to 10K pace and held it for a couple minutes before cooling down.
Thursday: 3 miles easy + strength work.
IT WAS 66 DEGREES TODAY. I wore SHORTS. It was AMAZING.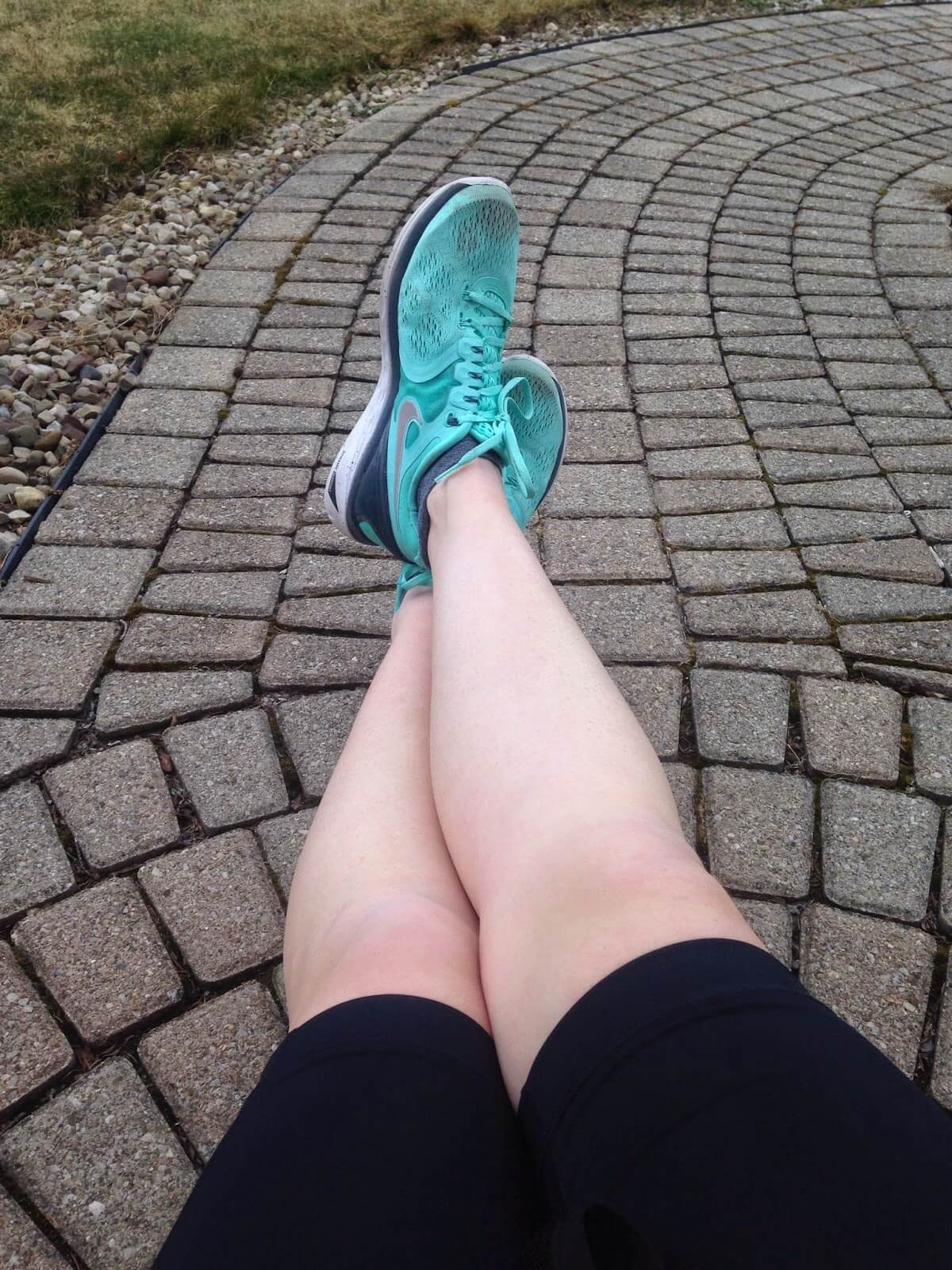 Chillin' in my shorts post-run. Do not zoom in on that photo. My legs are in a questionable state of shaved-ness. Give me a break, it's only April, I've been hibernating since November.
Only downside was the 30mph wind gusts that alternately made me feel like I was standing still, or flying (depending on if they were in front or behind me). But I will take it! 9:22 pace (9:02 for the first mile, word?) which was a little faster than usual, but I just felt great. No sense fighting it.
My strength work consisted of my usual stuff, except I also ended up unexpectedly doing a few planks with a 35 pound child on my back. So that was fun.
Friday: Rest!
And thank goodness, because Thursday night is when little Tater Tot developed an ear infection (read: no sleep for anybody). By Friday morning, Small Fry and I were both coughing like crazy. A good day to skip on the running.
Saturday: 3 miles easy pace.
Feeling a little better than Friday, but it was still 3 miles with a head cold. Blerggggg. I almost skipped it, but forced myself out the door. Slow for real at 9:52 pace, did not feel great, but I got it done.
Sunday: 7 mile long run.
You know it's going to be an interesting run when your pre-fueling plan includes a Sudafed 1 hour before run time. Yeah, I was not feeling super before this run either, but I knew I wanted to get it done anyway. I read somewhere that as long as your illness symptoms are from the neck up, you're okay to run...and so, out I went. I kept my pace very slow though, and really made sure not to aggravate my cold symptoms. In the end, I felt awesome!
The run started in the snow (WTF, snow?), but thankfully it stopped about 2 miles in. Just me and a lot of wet roads. I had to stop at home around the 5 mile mark for a quick bathroom break (also took time to throw down a few jelly beans, because EASTER), which probably explains why my last two miles were the fastest. I ended with a 10:07 average pace, and honestly felt phenomenal when I got home. My stuffiness had lifted a bit, and I had zero soreness. Perhaps I need to learn from this and go easier on myself during ALL my long runs.
And with that, week 4 is done. Here's hoping this cold finishes with me soon, I have more running to do!
How was your running week, friends?
Do you tend to run solo, or with friends? Any particular reason why?

Do you run when you get a cold? Or are you a good little patient and take a few days off?